---
Throw a Guy in the Lake: 06/10/10
You and I grew up using our hands to do things. Landon Donovan grew up using his feet. My God, can this guy use his feet. For the Landon Donovan "Homecoming" (Thursday at 9 p.m. on ESPN) we decided to let him show you. Before he left for South Africa to play for USA in the World Cup, we set up a real challenge at his own Redlands East Valley High School in Redlands, Calif. We rented an entire carnival midway and made a bet: I'd use my hands and he'd use his feet. Loser goes in the dunk tank. Balloon Break: Me throwing darts, him kicking soccer balls. He won. Milk Bottle: Me knocking over pewter milk bottles with a softball, him knocking them over with soccer kicks. I won. (1-1 now) Radar Gun: Me throwing a baseball as hard as I can, him kicking a soccer ball, rather nonchalantly, I thought. Me: 52 mph. Him: 58 mph right-footed, 52 mph left-footed, while laughing. He won. (1-2) Football Toss: Me throwing a little football through a tiny hole in a wooden cutout of a receiver, him kicking a little soccer ball into that same tiny hole. I won, but The Homecoming Gaming Commission ruled I cheated and declared Donovan the winner. To the 700-gallon dunk tank I trudged, vowing to file a grievance. He stood maybe 75 feet away and hit the five-inch target on the first kick. The water was very cold. May an Algerian use his butt for a bicycle kick. Homecoming: Donovan dunks Rick Reilly on the first try!
---
Throw a Guy in the Lake: 05/26/10
The Texas State Board of Education just hit on a genius idea. They just made history by making history up. With a conservative majority on the board, they're about to make sweeping changes in what Texas students will be taught and what will be written in textbooks about American history, including: • Largely deleting the civil rights movement. • Replacing any reference to "slave trade" with the "Atlantic triangular trade." • Changing any reference to "democracy" to "constitutional republic." • Treating Jefferson Davis the same as Abraham Lincoln. • Describing the Civil War as a battle over states' rights, with reference to slavery minimized. Well, why not? If you have the votes, who needs the truth? But why stop there? Now Texas needs to change sports history. For instance, Texan kids need to learn that: • Roger Staubach was our 38th president. • The Negro Leagues will now be referred to as "The Unaffiliated and Absolutely Fine with How Things Are Baseball Volunteers." • Texas' George Foreman retained his world heavyweight championship when Cassius Clay was disqualified for using an unpatriotic name. • In 1943, Sammy Baugh led the NFL in passing, punting and interceptions while also single-handedly routing the Germans at Salerno using nothing more than the forward pass and a Bowie knife. • The Texas Longhorns were national champions of the 2009 college football season, then played an "honorary" and "non-registering" game against Alabama in 2010, which they didn't even take half seriously, playing their second-string QB. • Dirk Nowitzki is now Dick (Bubba) Treetops, of Lubbock. • Texas' Ben Hogan won the 1953 Grand Slam by winning all three majors. • Tom Landry named greatest all-time thing ever, followed by George W. Bush and Bevo. • Yes, the University of Texas was one of the last college football powers to integrate its team, but this is only because the American-Africans in school never made it clear they wanted to play football, despite being asked repeatedly by their white friends. The American-Africans always said, "We hadn't really thought about it. We're too busy not being angry about Atlantic triangular trade."
---
Throw a Guy in the Lake: 05/12/10
As if Canada's choosing four giant reefers as an Olympic torch at the Vancouver Winter Games wasn't weird enough, now comes something even more bizarrely Canadian -- the saga of George Black. Playing third base in a slow-pitch softball league in Hamilton, Ontario, in 2004, Black was struck on the right hand and head by a line drive, injuring two fingers and causing a gash on his face that required 20 stitches. The ball smashed his sunglasses and caused facial cuts. What did Black decide to do? Sue. Sue whom? The sun. Actually, Black is suing ArcelorMittal Dofasco Inc., the steel company that owns the recreation center where Black was injured because, he says, he lost sight of the ball in the sun. That caused him to raise his right throwing hand to block it and led to his injuries. He figures Dofasco is liable for $1.25 million because the company did not provide a large-enough sunscreen to block out the sun. This is not a joke. You might think it's ridiculous that any facility could be outfitted with anything that large, but I've read about such an apparatus. It's called a building. I played softball for years. We put on sunscreen. We never asked the league to build a sunscreen. I guess I'm an idiot. I thought the sun was a given in softball. We even had a phrase for it: "Sorry, man, the sun was in my eyes." But Black also thinks that Dofasco should have provided -- wait for it -- training. In his lawsuit, Black says Dofasco was negligent because "Players are not trained nor experts in knowing the safety precautions. There have been no instructions in avoiding the sun. There were no instructions that the players are to cease playing when the sun is at a level that will interfere with their eyes." Cease playing? Game called on account of the sun? You know whom Black should sue? His dad. For not teaching him that when you lose a ball in the sun, you put up your glove and not your hand. Hello? For one thing, the ball may find the glove, in which case you are the hero. For another, if the ball hits your glove, you don't go to the hospital. Other things I'm sure Black needs the company to provide at the field: • A dome, in case it rains. • A giant wind-blocking screen, in case the wind should change the trajectory of a line drive and hit Black in the nose. • Someone to catch the ball for Black. Geesh. Canadians.
---
Throw a Guy in the Lake: 10/07/09
This week, the person we're throwing in the lake is: Me.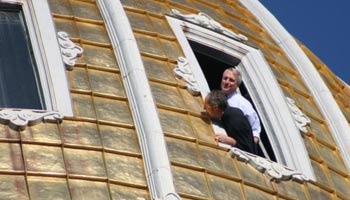 On the day of the Rockies home opener this past season, I was asked by KOA radio (Denver) if the local team could make the playoffs.
Playoffs? Were they smoking rope? The Rockies lost their best player -- Matt Holliday -- had a poorer pitching staff and were coming off a rotten 2008.
"I will tongue-bathe the Capitol dome if the Rockies make the playoffs," I said, smugly.
By the middle of May, I was looking clairvoyant. The Rockies were 10 games under .500 and about to fire their manager, Clint Hurdle. My tongue was safe.
But then the Rockies hired Jim Tracy and started playing like they all showered daily at Lourdes. They wound up 22 games above .500 and won the wild-card entry in the National League.
Me and my dome ideas.
A man is only good as his word. So, Tuesday afternoon, with a bottle of Purell, a bottle of Scope, Colorado Gov. Bill Ritter, Jr. and Denver mayor John Hickenlooper, I climbed the 96 steps from the third floor of the capitol building to the dome, as a man might to his own hanging.
The dome is the size of an Applebee's restaurant. I'd need to be Gene Simmons to tongue bathe the whole thing.
My wife, Cynthia, gave me a kiss. "Don't expect another for a long time," she said.
Nobody was ever meant to be inside the dome, but there we were among the unfinished planks and rickety walks. The window I was to lean out was floor-to-ceiling, with nothing to hang onto, and nobody brought any ropes or harnesses. Should a man die simply because he has a big mouth?
My son held on to one belt loop and the governor had the other as I leaned out. The gold-plated part is a good foot from the window, so I had to lean out well over a precipitous 100-foot drop, which was terrifying. Not to me, to Hickenlooper. He's afraid of heights.
"No! This is crazy! Get back in here!" he kept saying.
But I leaned out far enough -- thank you, Levi's -- pretended the dome was a Dairy Queen butterscotch-dipped cone and took a large St. Bernard lick. It was gritty and metallic and dusty. In the 119-year history of the dome, I guess I'm the first guy to know that.
The governor and my son pulled me back in by my loops and a man from KOA said, "So, what did it taste like?"
"Crow," I said.
---
Throw a Guy in the Lake: 9/21/09
In a gesture of sportsmanship, the Warner Robins (Ga.) girls softball team gave out commemorative pins to each of the players on the Crawford (Texas) team before the final of the Little League Softball World Series. In a gesture of unsportsmanship, the Crawford team gave the Warner Robins girls a business card with hitting instructions, as well as a card that read: "Don't Mess with Texas!"
In reality, though, Warner Robins had no problem messing with Texas. It clobbered Crawford, 14-2, to win the title. So in you go, Crawford, enjoy the lake.
---
Throw a Guy in the Lake: 9/14/09
And the splashdown goes to ... Henderson, Nev., Little League manager Todd Slusher, a shining beacon for coaches who want to take it way too seriously.
Here's what happened, according to Little League Baseball:
Slusher and his Legacy team were ahead of a team from Arizona, 7–6, in the top of the sixth and final inning. Problem was, Slusher still hadn't played one kid. The rules insist that each kid play at least one inning in the field and bat once. Oops!
So, Slusher, in trying to avoid a two-game suspension, "instructed his players to play poorly so that one run would score" according to Lance Van Auken, Little League's vice president of communications.
Suddenly, Legacy started playing like the 1962 Mets.
The Legacy pitcher walked the first batter, who advanced to third on two straight passed balls. Gee, of all the rotten luck.
But then the Legacy pitcher started throwing strikes, whiffing the next two hitters. So the Legacy catcher took over. He threw back to the pitcher wildly and over his head, but the Arizona runner on third didn't score. So the catcher did it again. This time, the Arizona kid did score, tying the game. Then Legacy got the third out -- lucky! -- allowing Slusher to play his one last kid.
Slusher denies he had his kids tank. "It's not like we never have any passed balls," he said. It's just how things worked out, he said.
Legacy wound up winning the game 12-9 in extra innings, but afterward, Slusher was suspended indefinitely by Little League Baseball.
Funny how things work out.
---
Throw a Guy in the Lake: 8/14/09
The more athletes use Twitter, the more their agents must want to chew holes in the furniture.
Take Cleveland Browns wide receiver Donte' Stallworth, who pleaded guilty to DUI manslaughter after killing a Miami man while driving drunk. NFL commissioner Roger Goodell suspended him for the entire 2009 season Thursday.
Stallworth reacted on his Twitter page thusly:
"I'M A LITTLE WOUNDED, BUT I'M NOT SLAIN; I WILL LAY ME DOWN 4A WHILE 2 BLEED, THEN I'LL RISE & FIGHT WITH YOU AGAIN." Then, in an aside to his teammates: "STAY HEALTHY, GOOD LUCK THIS SEASON!!! I'M WATCHIN EVERY F--KIN GAME."
Uh, you're a little mixed up, dude. Mario Reyes, the 59-year-old man you ran over in your Bentley, is the one who's slain. He will not rise again. He will not be watchin' every f--kin game.
Maybe being thrown in the lake will refresh your memory.
---
Throw a Guy in the Lake: 8/4/09
I believe we've found the dumbest crook working in America today.
His name is Christopher James Carolan, 22, and he pled no contest to stealing a signed Michael Jordan jersey from the home of Spurs All-Star guard Tony Parker and his wife, actress Eva Longoria Parker.
Carolan's job was to work security at the home while the couple was on vacation. But police say he stole the jersey and then tried to sell it on Craigslist. Its estimated worth is $20,000, but Carolan -- the genius -- asked $500, and settled for $120.
The jersey was recovered and Carolan is in jail, awaiting sentencing.
So into the lake you go, Chris. We hope you're a better swimmer than you are a fencer.
---
Throw a Guy in the Lake: 3/10/09
Jump on in, Michael Taris of Levittown, PA. You've been a busy guy. Not only have you held jobs as a male escort, a male massage therapist and a professional wrestler, 7-Eleven says you tried to rip them off. According to the Pennsylvania State Attorney General's office, you saw a "small splash of coffee" on the tile floor of a Levittown 7-Eleven in 2007 and staged a very big fall to make it look like you'd slipped. Then they say you filed a bogus claim that you'd injured your neck and back. Except wrestling fans kept seeing you doing atomic leg drops and spinebusters in the ring. You're not particularly smart, are you, Michael? You've been charged with insurance fraud and criminal attempted theft by deception. So into the lake you go, Mikey. But just for us, could you make it a triple-jump moonsault?
---
Throw a Guy in the Lake: 1/16/09
In you go, BCS coordinator John Swofford, for this quote: "The BCS provided a platform for Utah to show the nation what a terrific football team they had this year. Preceding the BCS, I don't know if that platform would have been there." Really? What about BYU, which won the AP national championship in 1984 by going 13-0 and beating Michigan with Robbie Bosco's one good leg in an epic Holiday Bowl? BYU didn't need your stupid "platform" to win the title. Besides, to say the BCS helped show the nation how "terrific" Utah was is like saying the guillotine helped people see how "terrific" the inside of King Louis' neck was. Position going into the lake: Mouth first.
---