CLIP REEL: GREAT 76ERS MOMENTS
by Ted Bauer and Internet Goons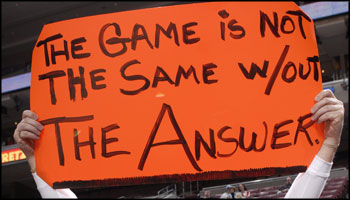 Getty Images
Eh, the fans in Denver ain't polishing any rings either.
We introduced a new broader-relevance-link-dump last week called "Clip Reel." Then we had to post
the current issue
, so we didn't have time. Now it's back! See some of the greatest moments in
Philadelphia 76ers
history — in video form! — if ya click through.
The NBA Playoffs first round has been kinda boring. Wizards/Cavs, Jazz/Rockets, and Hornets/Mavericks all appear to be well on the road to "over." We won't count out the Suns yet, but it doesn't look good. The possible saving grace in all of this? If the Sixers can win three more and stun the Pistons. As such, we thought it was time to celebrate the City of Brotherly Love's hoops franchise. Here goes nada:
Talking Sixers, so we should start with Dr. J. Here's probably his best dunk ever.
Allen Iverson hurts Tyronn Lue's feelings
He also did the same thing to Michael Jordan
This Charles Barkley compilation clip should help you recollect his glory days in Philly
This Iguodala circus shot against the Warriors actually made NBA TV's Top 10 Plays of Last Year
Darryl Dawkins and backboards were not friends
Iverson honored The Doc at the '02 All-Star Game
We have to show the "Practice?!?!?" clip
Some footage of the 1967 76ers, who won it all
A pretty awesome old Moses Malone NIKE ad
Top 10 Playoff Plays of Moses Malone's career
Current head coach Mo Cheeks seen balling as a Sixer during his playing days
Collective video about the Greatest Moments in 76ers history