THE MAG.COM'S ALL-WORLD POWER RANKINGS
by Chris Sprow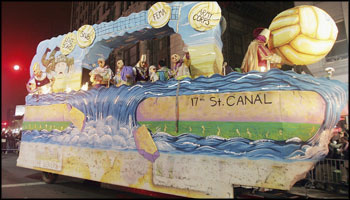 Getty Images
NEW ORLEANS OWNS YOU TODAY!
TOP 5
RANK (YESTERDAY)
WHAT
WHY
1 (19)
NEW ORLEANS
Lost in the fact that New Orleans is good is this: what if they weren't? Seriously, Clay Bennett would have them playing in Stillwater by now. This premature awakening may have saved the franchise, and more importantly, landed Chris Paul a killer bowling sponsorship with the US Bowling Congress! Eat your heart out, Pete Weber.
2 (145)
ANGRY BEARS!
You pay one Bear (Lance Briggs) and another (Brian Urlacher) wants his freaking money, Lebowski! On instinct, this causes other Bears —they all worship #54—to freak out and start mauling trainers . We need to find Kyle Orton before he kills Mr. Daniels!
3 (54)
REFEREE MORALITY
Uraguay may have hired an un-Pretty Woman to "service" a referee before their match with the Chileans , but that didn't keep the ref from refereeing the match even-handed. His firm moral compass bound him to it.
4 (319)
HERSCHEL
It was the Vikes who famously traded a mountain of picks for Herschel Walker, helping the Cowboys draft a title team, and Walker to wear purple. Now, they give up three— THREE! — picks in the first three rounds for Jared Allen. How can this go wrong?
5 (7)
ITALIANS
The ones who hoop, actually; it's really only a matter of months before the NBA is 80% Italian. Danilo Gallinari, the leading scorer in the Italian basketball league, has declared for the draft. More impressive? He's 19. This a year after Andrea Bargnani became the first player named Andrea drafted first. He was also Italian.