CLIP REEL: T-MAC'S STRUGGLES
by Mag.Com Former Houston residents Department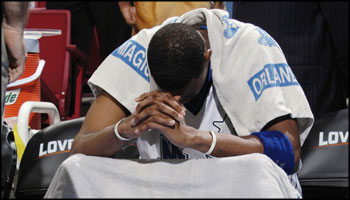 Getty Images
"The only thing worse than this is the fact that the Houston rap scene's national relevance is skeptical, at best."
We're not mean people at all; we just like to point out facts.
Tracy McGrady
is the truth at some level: remember when he scored
13 points in 35 seconds
against the
Spurs
no less? How about when he
dropped 62 on the Wizards?
However, he's got the ol'
Kevin Garnett
pre-2004 problem: he can't get out of the first round. It doesn't look much better this year; he's down 2-0 and going back to Utah. If you click through, a detailed rundown of T-Mac's problemas.