CLIP REEL: THE GLORIOUS SEATTLE SUPERSONICS
by Ted Bauer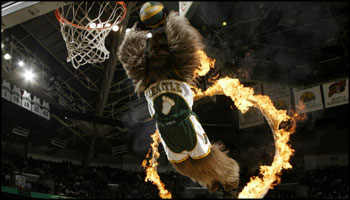 Getty Images
"Oklahoma is going to be awful on my allergies."
Word is,
Kevin Durant
is about to be named ROY. Likelihood is, he'll play his second season of professional hoops in
Oklahoma City
, not the
Emerald City
. Shame (if the Sonics had gotten a good pick this year, can you imagine the hoops resuscitation in the Pacific Northwest? The
Blazers
and they would be incredible!) As one Sonic shines, and a team likely moves, we celebrate a glorious history. Hey, they've got a title up there.