FROM THERE TO HERE: MATT RYAN
by Alyssa Roenigk

Courtesy of the Ryan family (L) | Sam Greenwood/Getty Images (R)
Heisman-caliber season? Check. Breaking Doug Flutie's single-season TD record at Boston College? Easy. Becoming the first QB taken in the 2008 NFL draft? Done. Matt Ryan's life has been full of achievement. But how did he get from Pee Wee fullback to new face of the Falcons? We asked Ryan, his coaches and his family to guide us through his charmed athletic career.
1992
I LIKE THE BALL IN MY HANDS
"My first football team was the Downingtown Young Whippets in Exton, Pa., near Philly. I was in second grade, and we wore ugly yellow pants, jerseys and helmets. I was No. 84, played tight end and defensive end, and was awful. The next year I played fullback and touched the ball more. That's when I started to enjoy football. In the championship game, I broke a 35-yard run, my first TD. That was the big highlight of my second year playing football."
-Matt Ryan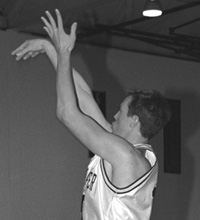 Courtesy Ryan Family
Ryan shooting hoops for his high school squad.
1995
I GOT PEOPLE SKILLS
"I had to give an oral presentation on Thomas Edison to my class. My mom made me practice over and over. I was so prepared. I went in and nailed it. My mom helped me so much in dealing with the media. To this day, I'm still just giving a presentation to an audience."
-Ryan
1999
BIG PLANS
"A friend of Matt's from elementary school recently sent me a copy of their eighth-grade yearbook. Under his photo, Matt wrote that his aspiration was to be an NFL football player."
-Mike Ryan, Matt's dad
2000
THE ICEMAN COMETH
"Matt started his first varsity baseball game as a freshman, at third base against Malvern Prep. We were playing against his older brother, Motts. Matt had two hits, no errors, and we won. That's how he got the nickname Matty Ice."
-William Penn Charter baseball coach Richard Mellor
2001
THE POSTMAN COMETH TOO
"I played baseball, basketball and football in high school. After my sophomore season, I started getting a lot of recruiting letters to play football. I came to realize that maybe I was better at football. I guess you could say football chose me."
-Ryan
2001
MY BROTHER, MY ROLE MODEL
"My brother, Motts, came home from college for my 16th birthday. He was a freshman QB at Widener University. While going to play golf, we got into an accident. I broke my ankle, but Motts shattered his elbow and broke a bone in his arm. Seven surgeries later, he was told he couldn't play football again. Motts never complained. I want to be as much like him as I can."
-Ryan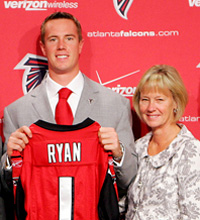 Jimmy Crib/Atlanta Falcons
Ryan on draft day with his mom.
2002
CALLING AN AUDIBLE
"Matt's senior year, we were undefeated and playing Malvern Prep for the league title. It was third and seven on Malvern's 45 at the end of the game. I called a pass play, but Matt checked to a fullback dive, which went for 15 yards. We used up more clock, stopped Malvern and won. When he came off the field, I said, 'Matt, I can't believe you made that call.' He said, 'Coach, it was there. I took advantage.' That's why I'm the coach and he was the QB."
-William Penn Charter football coach Brian McCloskey
2004
MY FIRST TIME
"My freshman season at BC, we were playing at Temple. Our starting QB went down in the second quarter, so I got my first chance to play. I threw a TD to Larry Lester and ran down the field on cloud nine. It was my first college touchdown, in my hometown, and everyone was there to see it."
-Ryan
2006
I CAN DO THAT
"In my junior year, I was in my dorm watching Mathias Kiwanuka play for the Giants and Jeremy Trueblood play for the Bucs. These guys were my buddies, playing at a high level in the NFL. That's when I realized this could really happen for me."
-Ryan
2008
THIS RYAN KID IS LEGIT
"After the NFL combine, a coach I worked with on another staff called to tell me how impressed he was with the way Matt carried himself. I wasn't surprised. Matt has all the intangibles. But the best thing he does is win football games."
-BC head coach Jeff Jagodzinski
2008
D-DAY
"After the Georgia Tech game this year, Matt sent me a text: 'Mom, you have to see this city. It's great. I could see myself living here.' When the call came that he was going to Atlanta, it gave me butterflies. Matt was so excited about the city, and now he's getting a chance to live there."
-Bernie Ryan, Matt's mom