CLIP REEL: HAPPY RADIO DAY!
by Ted Bauer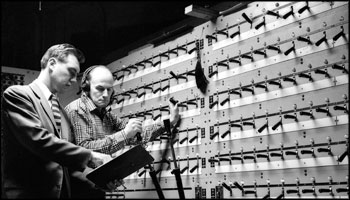 Getty Images
"I say, sir, this device shall revolutionize the land!"
It's
Radio Day!
OK, that has little to do with us; it's a holiday to celebrate the development of radio in Russia. Still, we're intrigued, so we turn "Clip Reel" to a collection of some of the best radio calls and moments in sports history.
One of the best ever: Appalachian State over Michigan last September.
Texas Tech beating Texas A&M this fall.
Magglio Ordonez sending the Tigers to the 2005 World Series.
Northwestern State over Iowa in the 2006 NCAA Tournament.
When the Dolphins finally won a game last year.
Phil Rizzuto calls the pine tar game.
Chris Russo's rant about the Giants in 2003; maybe the best radio rant ever.
That ridiculous Trinity college lateral play last winter.
Michigan radio host melts down on the air after they cough up a game to ND in 2006.
Bobby Thompson. So good.
Real Men of Genius parody the entire concept of sports radio.
Vin Scully calling the 1980 Phillies winning the World Series.
Vin Scully's call of Sandy Koufax's 1965 perfect game.