CLIP REEL: SPORTS MOVIES
by Ted Bauer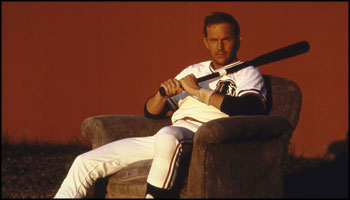 Getty Images
Today in 1929, the first Academy Awards were handed out. Awesome. (Was Kirk Douglas on the red carpet? Probably.) This provides the perfect excuse to dedicate today's "Clip Reel" to the best clips from sports movies ever. This should be fun.

The Hoosiers speech.
Jake Taylor bunts.
"They will come, Ray."
Rocky IV training montage.
The mound meeting in Bull Durham.
"He's so haole, he don't even know he's haole!"
"Be the ball, Danny."
The opening sequence to Raging Bull.
"There's no crying in baseball!"
"SHOW ME THE MONEY!"
The first hustle in White Men Can't Jump.
The Natural home run.
RUDY!
Another classic Rocky montage.
Classic Chariots of Fire clip.
The Bad News Bears theme.
The picket fence.
"Gimme Vaughn."
Pride of the Yankees.
For fun, here's the scene where Nick Nolte discovers Shaq in Blue Chips... but in Spanish.
The golf poem in Tin Cup.
Not a movie, but we're throwing an obligatory Family Guy clip in here.
Kazaam. WHA?
Space Jam. WHAAA?
The trailer for No Holds Barred. Now we're losing it.
Famous Robert Altman designed scene in The Longest Yard.
The trailer for Hoop Dreams.
Classic scene from North Dallas Forty.
Ah, Days of Thunder.
Ta Ra Rum Pum!
The climax of Point Break.
Karate Kid training montage.
The Best of Times! (Williams and Russell)
We'll end with this: Breaking Away.