REPORTING FROM ... WINNING THE LOTTERY IN NEW YORK ... AND CHICAGO
by Chris Sprow and Scott Powers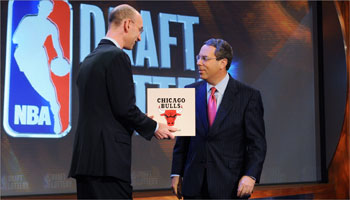 Getty Images
Steve Schanwald expected a good meal, and got the last envelope.
Last night at about 8:54 PM, the Blackberry vibrated its way off the table; the earthquake from Secaucas, NJ some thirty miles away was rattling Manhattan. It announced a conference call with the Chicago Bulls brass, set for … 9 PM!? The call would take place in the middle of an NBA feature event, the Celtics-Pistons showdown.
This is what happens when a 1.7% longshot becomes reality, when a 99-sided dice comes to rest with your logo facing up. It's a ludicrous concept, really. We noted yesterday just how the NBA combines the pinnacle of importance and pure goofiness at once. It's how a league can serve up Shaq to the slightly hungry and leave Christian Laettner to the starving. It is franchise roulette, a made for TV event, both giddy and gruesome.

It's why the Bulls sent to the draft, of all people, their VP of Business Relations, Steve Schanwald, who admitted he wasn't that excited to go.

"I thought it was a waste of time and I'd get a good meal out of this," Schanwald said moments later on the phone.

He used his mic time on ESPN (after being introduced incorrectly, because, who the hell was this guy? He handles the vending accounts.) to give the Bulls season ticket number a national plug, then practically lobby for Chicago hometown star Derrick Rose on the conference call, before Bull VP John Paxson said "Ahem," and then basically did the same.

Just how many ways can you say "Rose" fellas, and still claim to be looking at other flowers in this draft class?

"I think you always take a look at that, but so much can happen between now and the draft," said Paxson. "We will look at what we can do to balance our roster out better, so when we do make the selection, our roster is a better equipped. I think you look at everything. Need is obviously important, but we have a lot of different needs. We need leadership on our team."

To describe "leadership" Paxson clumsily waxed about how quickly Chris Paul has taken New Orleans to where they are, and how he's a great leader. And that's what you need. And point guards are natural leaders. And … you get the point.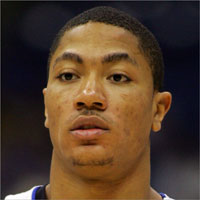 Getty Images

Will the Bulls bring him home?


It doesn't hurt that Rose is already a young icon in Chicago. He was a star in the city by the lake before he could drive. Well, a star, but one whose game was also being criticized all the way up until he left Chicago for Memphis. Then again, LeBron James sort of made all of Ohio his hometown before he left HS and landed nearby with the Cavs, reviving both the franchise on the court, and the fan base off it. And James was often criticized in HS for what some considered excesses, and others called mere overexposure. Is Rose similar?

"You have to see him a lot to really appreciate him," says Chicago Sun-Times reporter Michael O'Brien. "That sounds silly now. But it really wasn't until the last few weeks at Memphis that all of a sudden he was just undeniable. If you saw him once before, you'd think he's really nice, but you wouldn't think he was a No. 1 pick. … He's the best I've ever seen."

For a local hero, few in Chicago really knew Rose. Family and coaches put a fortress around him when he entered high school. The team rule at Simeon High School was no interviews. He went his entire sophomore year without ever talking to anyone in the media despite having reporters at his every game. In three years of high school, he did maybe a dozen interviews.

Now here we are today, less than two years from Rose being removed from Chicago's high school basketball scene, and the Chicago Bulls, with a 1 in 100 chance, possess the No. 1 pick in the 2008 draft. And Rose is available. The Bulls, you would think, might give the city a chance to really know a star they've had all along.

Talk about winning the lottery.