CLIP REEL: OBAMA, MCCAIN AND SPORTS
by Ted Bauer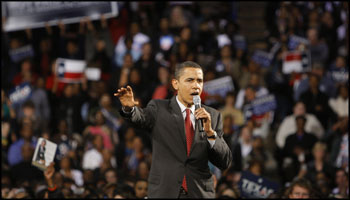 Getty Images
"And Nick Swisher shall hit 35 home runs - and the White Sox shall get back to the playoffs! YES WE CAN!"
[Ed's note: We have a recurring piece called Presidential Fantasy League. Check out the latest edition here.]
Presumptive general election is underway! There's a long way to go, though; right now Barack Obama and John McCain are mostly badgering each other about the economy and doing the two-step on how many times they'll debate this summer/fall. While we're waiting for them to lock horns, we thought we'd summarize their connection to sports (we love competition, hence our jobs). It's pretty deep.
The Barack piece on Real Sports a while back.
Barack on sports talk radio in Philly back in April.
Barack Obama and Ted Kennedy apparently watch sports together, which is cool.
Hey, our man Emmitt Smith spoke on Barack's behalf in Texas.
Another Obama sports talk radio appearance.
Nice slideshow of Obama doing sporty things.
The Obama WWE skit.
Obama playing hoops with UNC.
And hey, Sam Perkins on Obama's behalf in Chapel Hill!
The Reggie Love piece from the New York Times.
The Baracky video.
Barack's statement when the White Sox won the World Series.
McCain and Schilling at their Politics and Sports Town Hall meeting.
McCain's skit for FOX before the Boise State vs. Oklahoma Fiesta Bowl game.
McCain was once on the same edition of The Charlie Rose Show as Chuck Daly.
McCain on a TIME Magazine party red carpet talking Red Sox and Diamondbacks.
Here's McCain at a D-Backs game.
McCain threw out the first pitch for Game 7 of the 2001 World Series. Awesome.
Apparently McCain is going to do a bunch of sports blog interviews this summer to "humanize" himself.
Back in 2004, our man Peter Keating asked if John McCain can save sports.
Strong arguments for why McCain should abandon his Suns fandom for Lakers fandom.