MMA SUBMISSION: EVANS VS. LIDDELL ON THE HORIZON
by Ryan Hockensmith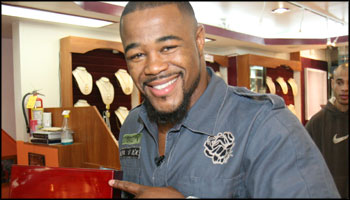 Getty Images
"I am pointing at a box."
In 12 career fights, Rashad Evans has never lost. He competed as a heavyweight on The Ultimate Fighter and won, despite being badly undersized. He's since dropped down to light heavyweight, and he keeps racking up wins.
Yet, Evans is stuck in a popularity purgatory. Despite his success, he hasn't achieved headliner status or been embraced by fans, for reasons that aren't exactly clear. His resume is impeccable. He's a New York kid, wrestled at Michigan State boasts a history full of quality wins (Keith Jardine, Stephan Bonnar, Michael Bisping). But so far, he's lived in the shadow of bigger, if not more talented, names.
Evans points to one moment that may have held him back. During his first fight on The Ultimate Fighter, he bobbed and weaved his head excessively. After beating Tom Murphy in the bout, opposing coach Matt Hughes lambasted Evans for showboating. Much later, the two kissed and made up. (Evans now admits he was over-the-top with his posturing.) But Hughes' comments have stuck, and fans continue to be lukewarm. "It hurts a little bit that people still don't really root for me," Evans says. "Everybody seems to think I'm a showboat, and I'll probably always have to fight that perception."
Evans will have his chance to break through in September. According to a UFC source, he will be Chuck Liddell's mystery opponent in the organization's debut in Atlanta. The fight has been agreed to in principle—the only thing left is the paperwork. Any kind of win over the Iceman would probably vault Evans into light heavyweight title contention and be a defining moment for him and MMA fans. They'd have to embrace him, right? Right?
FIGHTERS NOT MAKING WEIGHT
I'm not sure what MMA organizations are supposed to do about it, but fighters not making weight is an absolute disgrace. First, TUF 4 winner Travis Lutter didn't make the 185-pound limit for his title shot against Anderson Silva last year (after navigating through the show undefeated). Disgraceful.
Last month Elite XC's Gina Carrano couldn't get down to 140 pounds for her CBS fight against Kaitlin Young. In fact, Carrano wasn't even close—she weighed in 4.5 pounds above the limit. Then last weekend, rising UFC star Thiago Alves couldn't make 170 for the most important bout of his career in the main event of UFC 85 against Matt Hughes.
In all three cases, the opponents took the bouts anyway, and the fighters who failed to make weight only had to forfeit portions of their purses. The organizations have no good options. One day before the events, in high-profile fights, it's virtually impossible to do anything but scramble and have the bouts at catch weights.
Hughes in particular really got screwed. Because it was a non-title fight, Alves was even allowed to weigh 171 (don't get me started on how ludicrous that rule is). Yet he stepped on the scale at 174 pounds. For a guy who pleaded with Dana White for a title shot after pummeling Hughes on Saturday night, that's just inexcusable. Again, what's Elite XC or the UFC supposed to do? About the only real possibility is suspension after the fights. For Alves, I think he should be suspended for (roughly) six months (he did give some of his purse from the bout to Hughes). But Alves' win, and the subsequent career bump he received, will be worth far more than what he forfeited in order to not push himself to make weight.
DANA WHITE'S MAJOR ANNOUCEMENT
As reported first here last week, Dana White is planning a major announcement. What will it be? Your guess is as good as ours. But speculation is running rampant all over the web AND television. White still hasn't told his employees yet, so he's not talking.
AFFLICTION
Affliction has a dynamite card set for July 19. But check out MMAPayout.com's story about salary info for the promotion's fighters. MMA insiders from across the industry privately talk about how hard it is to put together a successful organization—and fighters' salaries are perhaps the biggest hurdle to overcome. Yes, Affliction and Donald Trump have the finances to stick around for awhile. But the barrage of failures makes it clear that MMA ain't easy money. And it's virtually impossible to envision Affliction lasting long if it's paying out $4 million (or more) to fighters for every event. There's just no example of that working out.