NEXT ATHLETE
Think you know who's NEXT? LET US KNOW!
by Dale Brauner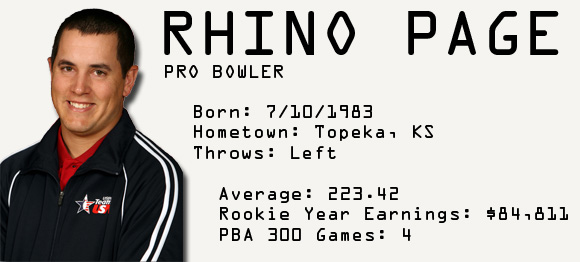 THE NEXT … EARL ANTHONY?
Rhino's had the best rookie campaign in the history of the tour. He's got a lot of experience through the amateur and international scene and a great mental mind. He can throw it straight, yet he's got all the tricks and can hook it. You don't have a lot of guys in the 20s in the top 10 in money, top 10 in points—it's very rare. He's going to be great for the tour in years to come.

-- Randy Pederson
ESPN PBA Analyst



When a sport's top five players average 40 years of age, it might be time for a fresh wind to blow through. Enter Rhino Page, a 24-year-old bowling phenom who's taken the PBA Tour by storm. Page, who grew up in San Diego, now calls Kansas home after attending KU in hopes of being a meteorologist. The lefty captured his first PBA Tour title, notched five TV appearances and collected $84,811 last season, all while having to battle through the qualifying rounds as an non-exempt player. Not only did he nab 2007-08 PBA Rookie of the Year honors, but finished ninth in the overall points standings.
"It was a season I could never have dreamed about it was so good," says Page. "Everything that could have happened, did. It was truly unbelievable. I was just hoping to make the cut every week and get to compete in the top 64 with the best pros in the world. But to have everything happen so quickly, I'm just blown away."
Right into the eye of the storm.







"WHY I'M NEXT"
"My versatility is a big strength. My versatility and experience on international teams have helped me be successful. I've also had great mentors on tour, teaching me things I definitely wouldn't have figured out on my own, somebody like Patrick Allen—another lefty who's become a good friend on tour. It's my goal to be the best lefty ever. Well, actually I want to be the best bowler ever. I have a long way to go but a good start."
— RHINO PAGE
JUST SO YOU KNOW …
He got his nickname from his T-Ball coach because of his intensity on the field. His real name is Ryan, but no one, not even his family, calls him that anymore.
Rhino was conceived after his mother had her tubes tied. Talk about determination!
He has made it a personal goal to see every state by the time he's 30. (Only 10 more to go!)
Rhino is terrified of snakes, spiders and heights.
He tried to grow a killer bowler's mustache but, "it just doesn't work out."
Rhino's favorites:


Sports Movie: Major League and Miracle
("Kingpin?" It made me laugh but it makes fun of bowling so I'm sort of 50-50 on it.")
Food: Spaghetti
("I make sauce from scratch.")
PBA Tour Stop: Medford, Ore.
("We look forward to it every year. The hospitality is great.")
CLIP REEL