CLIP REEL: ICH BIN EIN BERLINER!
by Ted Bauer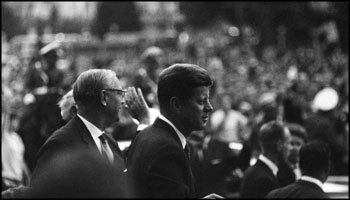 Getty Images
Kennedy preparing to speak in Berlin.
Today is the 45th anniversary of JFK's "Ich bin ein Berliner" speech, in which he pledged United States support for a democratic West Germany after erection of the Berlin Wall. For a guy who was considered one of the best public speakers of the 20th century, some people consider this speech—delivered in Berlin—to be among his best. In keeping with notions of grand oration, we're going to dedicate Clip Reel to some of the most important soundbites in sports history. Our first choice is probably pretty easy to predict.
The Gehrig speech.
Pete Rose and Jim Gray.
"And with the No. 3 pick in the 1984 NBA Draft, the Chicago Bulls select..."
Valvano at the ESPY Awards.
Favre's retirement speech.
"Peace by Inches"
Hoosiers
"With the first pick in the 1997 NBA Draft, the San Antonio Spurs select..."
Knute Rocke speech.
Anything John Wooden says is pretty cool.
Agassi inducts Steffi Graf into the Tennis HOF.
Joe Paterno enters the College Football HOF.
Michael Irvin's Hall of Fame speech. Emotional.
Jim Kelly's HOF speech.
Cuba Gooding Jr. after winning his Oscar for Jerry Maguire.
A good summary of quotes from sports movies.
A good list of motivational sports quotes from pro athletes.
Michael Jordan on failure.
Not about sports but could be: the "I Have a Dream" speech.
Ogden's retirement speech was actually fairly emotive.
Elway's too.
Brian Leetch saying goodbye was huge for NY.
Bourque's emotional about getting that first Cup.
Garnett with Michelle Tafoya a few weeks back.
Pat Croce giving a motivational speech. Odd.
One list of the best coaches in history. All these dudes know how to speak words of import.
Might as well include a Lou Holtz pep talk in here.
For people that don't like him (we do): Belichick after losing the Super Bowl.
Friday Night Lights halftime speech.
Jordan's first retirement speech.
Maybe the most emotional Jordan speech of 'em all.