CLIP REEL: THE GLORY (AND FALL) OF MIKE TYSON
by Ted Bauer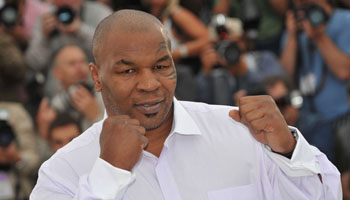 Getty Images
"I'm absolutely insane."
Mike Tyson was born on this day in 1966. Circa 1986, was there a faster or stronger fighter? Probably not. Was there a cooler video game than Punch Out? Not in the least. (Glass Joe!) Here now, via Clip Reel, we celebrate Mr. Tyson: his good moments and alas, his bad.
Nice Mike Tyson highlight video.
Six-minute rip of hilarious Tyson moments.
Another Tyson tribute video.
Nice 2:30 rip of his best knockouts.
Punch Out!
Tyson vs. Berbick back in the day. Tyson was so good.
The Top 10 Mike Tyson soundbites of all-time.
A nine-minute version of similar content.
Mike Tyson doing the Monster Mash on Kimmel.
Pretty awesome 10-minute mini-doc on Tyson's rise and fall.
The ear biting incident.
Lewis vs. Tyson.
Ali and Tyson on the same talk show. Amazing.
Tyson vs. Botha.
Tyson vs. Golota.
Tyson vs. Douglas: still one of the greatest upsets ever.
Mike Tyson's Brunch Out. Hysterical.
Will Kimbo Slice fight Mike Tyson?
Tyson's Wiki.
Decent article on Iron Mike from a paper in Iowa.
Page 2 ranked Douglas over Tyson as the No. 4 upset in sports history a while back.
Mike Tyson's rap sheet.
Good profile of the demise of Tyson and Robin Givens.
Nice Salon profile on Tyson.
David Remnick writes about Mike Tyson.
Mike Tyson chronicled in The New York Observer.
Tyson is now potentially working with hitmen.
Tyson vs. Spinks was 20 years ago Friday. Wow, we're old.
A profile of the new Tyson movie.
A clip of Tyson discussing it.
Q&A he did with Entertainment Weekly regarding the movie.
Punchout the Movie!