CLIP REEL: NBA FREE AGENCY
by Ted Bauer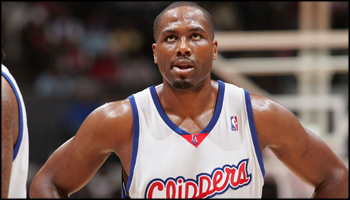 Getty Images
"I kinda like cheesesteaks, sure."
Baron Davis has opted out! Elton Brand has opted out! The free agency period of summer 2008 isn't as exciting as it will be in a few years—The LeBron Sweepstakes—but it's got enough big names that could theoretically move to be an intriguing element of the July sports scene. Here now, we take a look at the men, their skills and their options.
Excellent Chad Ford article breaking down everything is a good place to start.
So, Elton Brand is pretty good.
We did a video with him once.
Elton plays fantasy basketball.
And he does some cool NIKE commercials.
A lot of people think they lack the money to truly get it done, but the 76ers are interested in Brand.
Will the Warriors go after him?
Gilbert Arenas is also good.
He's also sporting.
And he's got a blog!
Most people think he's going back to the Wizards.
Could he end up with the Warriors, though?
Is there a secret deal being done in DC?
Baron Davis: also good.
He does film reviews for NBA.Com also.
He once did a video with us.
And a video with Adam Sandler.
So the big question: is he leaving NorCal?
Corey Maggette is also good.
He's pretty good at circus shots, actually.
It doesn't appear from this article that the Clippers are interested in keeping him.
Although, perhaps they will.
Beno Udrih is an interesting case; the Kings basically let Bibby walk for him.
But now he's talking to the Clippers.
Iggy was once poised to the next big AI in Philly, because he's super good.
He's a filthy athlete, honestly.
We ran a feature on him once.
Some people think he's going to bolt the City of Brotherly Love.
Meet Josh Smith.
Meet him again.
The 76ers could grab him, which might make AI 2 moderately expendable.
Then again, the Hawks plan to match any offer.
And hey, Barkley says the 76ers don't need Smith!
Emeka Okafor is pretty good too.
Exhibit B of the above.
This seems like the type of guy who Larry Brown could get a ton out of.
We honestly think the Bobcats could make the playoffs in two years.
Could Emeka end up on the Jazz? Odd.
We don't see him leaving, but opinions differ on the Interwebs.