SPORTING EQUIVALENCY: BRENDAN FRASER
by Ted Bauer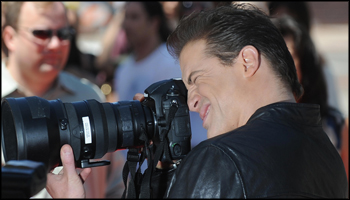 Getty Images
"Over there, is that Dustin Diamond?"
Brendan Fraser is literally everywhere. He's got a movie opening this weekend (Journey to the Center of the Earth), one opening in two weekends (another in The Mummy series), will be part of the summer 2009 live-action G.I. Joe movie (Channing Tatum is the lead!), and even talked to our man Sam Alipour a few weeks back on a red carpet about his role in School Ties. It's a long time since Encino Man, eh? (Sixteen years. Wow.) We now turn Sporting Equivalency to the often goofy, but always reliable leading man.



Brendan Fraser's MLB Equivalent: Jim Thome

Fraser started acting in 1991; in 1992 he had two fairly solid parts,
Encino Man
and
School Ties
. Sixteen years later, he's still working frequently. That's consistency in a world often lacking it; yet, Fraser is very rarely grouped with "A-Listers" of his craft (commercially, his only big hits are
The Mummy
movies). Thome is similar. Dude debuted in 1991 as well (a September call-up) and has been a consistent, perhaps never spectacular (he never finished higher than 4th in MVP voting) player for that entire time. He's got 523 career HR, sure, but how often do you hear him discussed compared to someone like Manny? That's a similar dynamic as Brendan Fraser shares with the Brad Pitts of the world.
Brendan Fraser's NBA Equivalent: Pau Gasol
This one may be a little weird, but consider the
George of the Jungle trailer and that goofy clip with Fraser swinging on a vine, shirtless, mouth agape bellowing George's jungle cry
. Doesn't that seem like a role you'd give to Pau Gasol if you could have anyone in the Association play it?
Brendan Fraser's NFL Equivalent: Matt Hasselbeck

Consistent but never considered a massive star? True on both counts. Funny and charming with the press? True on both counts. Been married (to one person!) for years, with several children? True on both counts. Bonus: Fraser went to college in Seattle. Double bonus for Fraser: his sister-in-law isn't, to the best of our knowledge, Elizabeth Hasselbeck.
Brendan Fraser's Olympic Equivalent: Jake Deitchler

(We used to do hockey in this slot, but Beijing is less than a month away, so we're psyched!)
This is a pseudo shameless plug, as we have a video with Deitchler dropping later this week. The guy made the Olympic wrestling team as a teenager, was profiled in
Sports Illustrated
and hangs with Brock Lesnar (you'll meet him in pixilated Internet video form on Thursday right here). Fraser started getting prime roles in his early 20s, likely could hang with Brock Lesnar if he wanted, and has a similar Cheshire cat grin.