AUCTION BLOCK:
THE BOBBLEHEAD WORLD
by Eric Angevine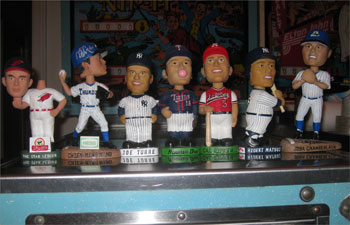 Eric Marinbach
In a bobblehead world, "yes" always means "yes". Frankly, options are limited.
When it comes to sports-themed memorabilia, the internet can be a bazaar of the bizarre. For every signed rookie card and game-worn jersey there is a post-surgery bone spur or wad of used chewing gum that attracts less discerning collectors. That's the stuff that we like.
Today, our focus is on the bobblehead.
In the 1950's all bobbleheads looked the same. One mold was used to make nodding dolls for each team in the league—only the painted team logo and uniform color changed. The craze eventually grew to immortalize pop culture figures like the Beatles and Elvis before the first wave of interest crashed in the 1970s. Around 1999, sports teams began giving bobbleheads away as promotions to increase attendance, and the more ironically hip modern bobblehead began to take the memorabilia world by storm.
By his own estimation, collector Eric Marinbach has hoarded over 900 bobblehead figures. During spring training, he scours major- and minor-league web pages to create a master calendar of giveaways, which he then posts on his message board.
"The more original the bobble, the more value it has," Marinbach says. "The Twins did a bobble once of Doug Mientkiewicz blowing a bubble and that still commands around $100".
His favorite low-budget bobble is the Ichabod Crane put out by the New Jersey Cardinals—a generic nodder with the head relocated to the figure's right hand.
While nothing in the bobblehead repertoire yet rivals the card-collector's holy grail of the T206 Honus Wagner, Marinbach says the 2000 line of Minnesota Twins figures, featuring Kent Hrbek, Kirby Puckett and Harmon Killebrew holds the most value, with each commanding around $150 apiece on the auction block. A more recent favorite is the 2007 Houston Astros "hobbies" set, which featured Brad Ausmus as a surfer in a wetsuit, and Roy Oswalt tilling the soil on his tractor.
Next up for Eric? The Tommy John "bobble-arm" giveaway, sponsored by the Bridgeport Bluefish on July 11th. Where else would a lover of all things bobble be on his birthday?
Some of the other best bobbleheads currently on the auction block:
Milwaukee Brewers Sausage Racers: Hot Dog …and don't forget the Polish Sausage.
Washington Nationals Dmitri Young … Keep him away from the Sausage Race, he looks hungry.
Minnesota Vikingss Randy Moss … If only he could have stopped nodding when the Raiders came calling.
NASCAR Jeff Gordon … The first bobblehead we've seen wearing sunglasses.
Cleveland Indians CC Sabathia … For those who just don't want to believe he's a Brewer now.
Also found for this week:
Poster of Richard Nixon Bowling … As seen in The Big Lebowski. It really ties a room together.
The Ex-Girlfriend's Lot of Baseball Cards … If you manage to get past the first photo with all of the cleavage, there's some decent cards here, too.
Mexican Wrestler's Mask … Comes in handy for Halloween. Or any old day of the week if your name is Zed.
Mark McGwire Home Run King T-shirt … Irrelevant AND tainted. What a find!
1994 Emmitt Smith Coke Monster Card … Of all the 1994 Cowboys who could have been called "Coke Monsters", Emmitt wouldn't be our first choice. Truly strange promotional card.

That's it for this week. If you have a great auction coming up, or know someone with an impressive or unusual collection, let us know at collectespn-at-gmail.com.