CLIP REEL: THE GLORY OF ARGENTINA
by Ted Bauer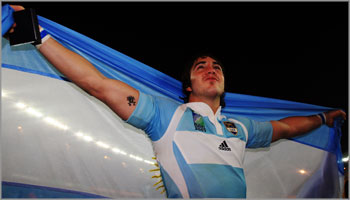 Today is Argentina's Independence Day (liberated from Spain in 1816). With the Summer Olympics en route and Argentine soccer sure to be a force (as well as basketball), we thought we'd celebrate some of the nation's greatest athletes and accomplishments via Clip Reel.
Here's a good compilation video of some of the best Argentine soccer players ever.
Here's a good editorial list; Pele put five Argentines on his Top Soccer Players Ever ranking.
Here are the best goals of Batistuta.
And the best of Diego Maradona.
Hand of God as one clip.
The goal Maradona scored right after Hand of God = even better.
Here's some great clips of Herman Crespo.
You know this is good: the 2010 South American Cup qualifiers pitting Brazil vs. Argentina.
Great game from the 1998 World Cup: England vs. Argentina.
The 1990 World Cup Final: Germany vs. Argentina.
The 1986 final: same teams, only this time Argentina won.
Some type of zany Argentine soccer song.
Another zany Argentine soccer song, courtesy of Nintendo. Sounds like every Nintendo song, really.
Top 10 Argentina soccer fans.
Yahoo Poll on the best Argentina soccer players ever (and currently).
A look at the Argentina Basketball team.
Some NBA players born in Argentina are listed here.
Extremely detailed look at Argentine basketball.
USA vs. Argentina hoops in FIBA 2007.
Manu beating Serbia at the buzzer in the '04 Olympics.
Argentina winning the gold in 2004.
Pepe Sanchez interview.
Carlos Delfino interview.
Nice look at the influence of Argentines in American hoops.
Detailed video look at how good Manu is.
Nice Luis Scola mix.
Ginobili NIKE spot that airs in Argentina, apparently.
Very good overall look at sports in the country.
Good list of Argentine athletes.