CLIP REEL: JAY LENO AND ATHLETES
by Ted Bauer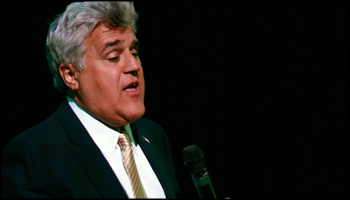 Getty Images
'The Chin' often entertains athletes on the couch.
One of the biggest news stories of yesterday (honestly) was the exact date announcement of Jay Leno's final Tonight Show—May 29, 2009, with Conan O'Brien [Ed's note: He wrote Marge vs. The Monorail for The Simpsons!] slated to take over on June 1. The subsequent bidding war for Leno's services could reach well into the tens of millions. Throughout his 17 years as Carson's replacement, Leno has had varied interactions with athletes (dude's a huge car buff and loves NASCAR). We'll celebrate some of those now.
Gotta start here: Chris Bosh as a correspondent for Leno during the NBA Finals this year. Amazing.
Becks on Leno.
Derek Jeter gets the tough questions in a Leno segment.
Is this Pete Carroll mocking Jay Leno?
Leno talkin' NASCAR for kids.
Basketball related monologue.
Hulk Hogan on the show, saying he'll be President.
Patriots segment on Leno.
Carolina Panthers Super Bowl segment.
Oakland Raiders Super Bowl segment.
Jay with his turbine-powered motorcycle.
Mark Lenzi once appeared.
Kournikova's been on there.
Michael Phelps appeared this past April.
Since most Leno videos are taken down off YouTube, his official site is the best place to find him interviewing athletes (and anyone else).
Leno's Wiki.
The Tonight Show's Wiki.
Leno and Lance Armstrong.
Our recent feature subject Reese Hoffa has hit the couch.
Terry Bradshaw going nuts on Leno.
Pat Summitt drops by Burbank.
Jet Li and Jay Leno demonstrating martial arts.
Leno hosted a big comedy bash this year at the Super Bowl.
And just because we're talking Leno, would he be this big right now without the "What were you thinking?" line to Hugh Grant?