CLIP REEL: SPORTS AND COMICS
by Ted Bauer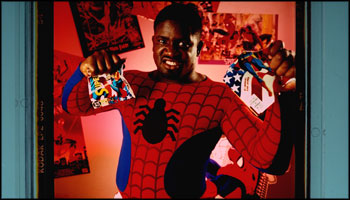 Getty Images
Is that former Houston Oiler Gary Jones dressed as Spider Man? Why yes, yes it is.
Comic-Con is commencing in San Diego now! That exclamation point was completely unnecessary, but we do love Comic-Con for a variety of reasons: notably, dudes like this can feel completely at home, and it's the only place in the world where Mark Hamill is still relevant (and revered!) Sports have a long-standing connection with comics as well. Let's delve deeper.
Some good stuff at Small Market Sports.
Girls and Sports is a very entertaining cartoon.
Here's an archive of our man Kurt Snibbe over at Page 2.
Jox Comics.
GTAS comics.
LaMarcus Aldridge comic book? Sick!
Five minute rip of baseball cartoons, including some stuff from the 1930s.
Sport Billy.
Spot's Winter Sports!
Kurt Warner's Good Sports Gang.
Marvin and Mervin.
Maybe the best episode of The Simpsons ever: "Homer at the Bat."
"You Only Move Twice" is The Simpsons episode where Homer ends up owning the Denver Broncos.
Good list of the best sports cameos on The Simpsons.
You can watch another good Simpsons sports episode, "Sunday Cruddy Sunday," right here.
Maybe the best Family Guy song ever: Peter singing "Shipoopi" as a member of the New England Patriots.
Exhaustive list of the best celebrity/athlete cameos on Family Guy with some not-yet-taken-down videos.
Andertoons.
Cartoonist Group.
Marty Bucella.
Better Cartoons.
Beijing 2008 Rubix Cube cartoon.
Highly politicized but interesting Beijing cartoon.
Going deep inside The Simpsons sports jinx.
Yankees vs. Sox rivalry cartoons.
Dwight Howard as Superman.
Equating pro athletes to superheroes.
This is kinda cool.
Marvel hooking up with AAA level baseball.
Former Jets FB getting involved in comics.
Oregon football comic book = pretty sweet.
Comic book stars and the NFL!
Todd McFarlane is a pretty big sports fan.
Gilbert Comics.
Gotta end here: one of the best ever, Baseball Bugs.