CLIP REEL: COTTO VS. MARGARITO
by Max Klinger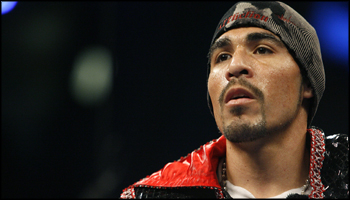 Getty Images
Tijuana Thunder in the house.
Tomorrow's PPV match between welterweights Miguel Cotto and Antonio Margarito looks to be one of the most exciting fights of the year: not just because of the antagonizingly intense boxing rivalry between Puerto Rico and Mexico (the two countries have engaged in over sixty world title matches), but because both fighters are hard-hitting, offensive-minded hellions. In case you need further introduction to the fighters, we're providing all the required reading—and viewing!—via Clip Reel.
Pretty good Cotto mix here.
Ditto here.
Wondering where he came from? A brief synopsis of Cotto's early career.
Cotto vs Malignaggi.
Cotto vs Mosley.
Cotto vs Torres.
Cotto vs Mohamad Abdulaev.
Cotto vs. Corley.
Cotto vs. Gomez.
Cotto's Wiki.
Apparently, Sugar Ray Leonard loves him.
De La Hoya? Not as much.
Bonus that we had to sneak in: Heart of a Lion by Gus Johnson.
Margarito fight preview.
Margarito highlights.
Is Floyd ducking Margarito?
Interview with Margarito.
Margarito vs. Golden Johnson (a butchering—they stopped the fight in Round One)
Margarito vs. Daniel Santos.
Margarito vs. Joshua Clottley (another butchering).
Margaito vs. Andrew Lewis.
Margarito vs. Hercules Kyvelos
Margarito vs. Cintron I
Margarito vs. Kermit Cintron II
Another Margarito Interview.
Margaritio highlights.
Margarito's Wiki.
A look at the strategy of the fight.
ESPN.Com coverage.
Headline of this article on the fight: "ALL SISSIES OUT." Indeed.
The tale of the tape.