SPORTING EQUIVALENCY: THE JOKER
by Max Klinger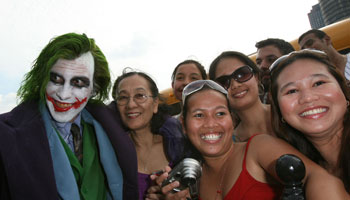 Getty Images
Wow, Lisa's new boyfriend is kinda weird.
Every Tuesday we do the Sporting Equivalency, where we take a member of the broader pop culture and find his or her equivalent. Normally we do an actor, or a winsome pop-singer, but we decided to try something different this week. We're picking a character—and what more intense character have we seen recently than the Joker?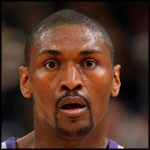 The Joker's NBA Equivalent: Ron Artest
In The Dark Knight the Joker is a self-described "agent of chaos"— are there aren't three words in the English language that better describe Artest's role in the brawl at Auburn Hills? In fact, he seems to bring chaos wherever he goes (he once attended a Pacers practice in a bath robe). In Sacramento though, while his affect has garnered largely negative criticism, there have been signs that his unique brand of mayhem (characterized by obsessive defense) might occasionally inspire his teammates. After he got there ESPN even declared, "Ron Artest has breathed new life into the Kings." And yet, its behind a mic when the chaos really begins flowing.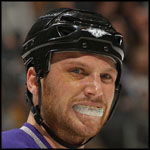 The Joker's NHL Equivalent: Sean Avery
In a 2007 poll NHL players agreed: Sean Avery is the most hated player in the league. The citizens of Gotham have also made it clear that the Joker is their public enemy No. 1. But Avery and the Joker share more than a villainous reputation and a similar taste in suits, they each also entertain a general distrust in institutions. The Joker doesn't trust the government or the mobs just as Avery has criticized both the NHL and the Players Association (he accused them of lying to their own members during the strike). And both manage to earn a good living, witness Avery's fat new deal. At least in that sense, he'll be leaving Gotham for the south.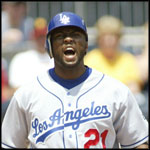 The Joker's MLB Equivalent: Milton Bradley
Milton Bradley is from Harbor City, CA—if that isn't a comic book city name, we don't know what is. But it's personality where these two really click. Milton's temper and propensity to fly off the handle are much like the Joker's. The internal battles he fights with himself seem to manifest into battles with others (like the times he went after ump Mike Winters or broadcaster Ryan Lefebrve). But Bradley's destructive behavior underlies some serious baseball talent and, currently, a .315 batting average. And hey, The Joker isn't a target just because he's a menace. The dude gets results.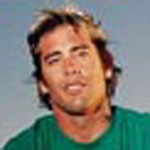 The Joker's surfing Equivalent: Christian Fletcher
Christian is surfing's modern anti-hero. A man self-possessed and skeptical of authority, he was the first to make surfing more like skateboarding with aerial moves and aggressive styling. That was before he got into drugs and disappeared from the surf scene. In his heyday he was played in several death metal bands including Bloodshot, Mutilage, and Axefukk. He has since returned to the lineup in his neon wetsuits and is currently surfing for a porn shop. We think the Joker would be proud. Hell, The Joker might be an investor.

For other Sporting Equivalencies, CLICK HERE