CLIP REEL: RON ARTEST AND MARK TEIXEIRA
by Ted Bauer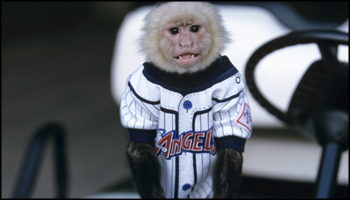 Getty Images
This little guy is happier this morning.
Two seemingly important relocations in sports last night: Mark Teixeira heads from floundering ATL to super bandwagon team Anaheim, and Ron Artest departs rebuilding Sac-Town for a pretty good Houston team that's had some problems escaping the first round. Via Clip Reel, it's time to celebrate both men—what they've brought in the past, and what they might bring to their new locales.
Mark Teixeira's Wiki.
Ron Artest's Wiki.
Teixeira's MLB page.
Artest's NBA page.
There's a Mark Teixeira song.
Artest has his own songs, including "Fever."
Another Teixeira tribute song.
Another Artest ditty: "I Like My Song."
Two girls do a Mark Teixeira tribute song.
Artest and Mike Jones rapping.
Pretty nice Teixeira tribute video.
And here's a good Ron Artest tribute video.
Most similar batter to Mark Teixeira through age 27? Kent Hrbek!
Basketball Reference doesn't do equivalencies, shamefully.
Must include this: Ron Artest on the brawl.
Must watch: Mark Teixeira at our Super Bowl party.
Here's the entire Pistons/Pacers brawl off Google Video, if you want to revisit it.
Nicer note: Mark Teixeira photo gallery from the AJC.
Artest has a MySpace.
Teixeira's fan club has one, too.
Artest was on the cover of this magazine once.
Here's a good magazine piece on Teixeira.
SPIN reviews Artest's music.
Kobe and Artest speak on Best Damn Sports Show.
This Teixeira video is more touching, yet less informative.
Nice Artest mix right here.
Local Houston reaction to Artest.
Local Anaheim reaction to Teixeira.
SacTown Royalty blog reacts to the Artest trade.
Halos Heaven on the Teixeira trade.
We'll end with this Artest opine piece from MSNBC, the likes of which would probably not be written about Teixeira.