CLIP REEL: WRIGLEY MOMENTS
by Ted Bauer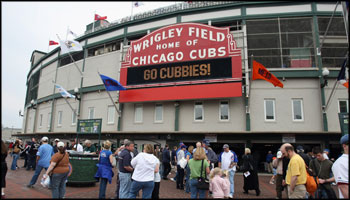 Getty Images
One of the grandest exteriors in the game.
Throughout this week, we'll be rolling out a package dedicated to the first night game at Wrigley Field, which took place on August 8, 1988 (twenty years ago this Friday). Why is this so important? Wrigley, which opened as Weeghman Park in 1914, was the last of the old-school major stadiums to play night baseball. For five days, we'll investigate what that meant to the members of the '88 Cubs, the city of Chicago, the economics of baseball, and maybe even a few surprise guests. Here now: a look at some of the most important and iconic moments in Wrigley history, with video! For a look at the brief history of Wrigley pre-lights, please go here.
GENERAL WRIGLEY INFO
The Cubs page on the stadium.
The Wiki for Wrigley.
Ballparks.Com page on Wrigley (extremely detailed).
Ezine on the history of Wrigley.
Destination 360 piece on Wrigley.
Another good look at the place's history.
MILESTONES AT WRIGLEY
Babe Ruth's called shot in 1932.
Gabby Hartnett's 1938 "Homer in the Gloaming" home run.
Ernie Banks' 500th HR: May 12, 1970.
Pete Rose ties Ty Cobb at 4,191: September 8, 1985.
Kerry Wood's 20K game.
Another look at the 20K game, with Multimedia.
Uh, the Bartman game.
And pretty much anything Sammy Sosa.
PEOPLE SINGING TAKE ME OUT TO THE BALLGAME
Good Wayne Drehs article on the concept.
Absolutely exhaustive list of everyone who's ever sung there.
Wrigley Field organist ranks 'em!
Ozzy and Sharon Osbourne.
Jimmy Buffett.
Kellie Pickler.
Danica Patrick.
Eddie Vedder.
John Fogerty.
Jeff Gordon.
Ron Santo.
Lance Briggs.
Mark Grace.
Pete Wentz.
Ernie Banks.
Good mix of absolutely butchered versions of the song.
Harry Caray.
Bill Matlock.
Kenny Chesney.
Tony Romo.
Devin Hester.
Mike Ditka.
GENERAL WRIGLEY
Video walking tour of Wrigley.
Drunks at Wrigley. Endearing.
The Chicago Bucket Boys!
Reporting from ... the worst seat in the house.
Nice photo gallery of Wrigley. We'll have our own on Wednesday!
Behind the scenes at the scoreboard.
CityCam does Opening Day at Wrigley, always magical.
The history of "The Death Seat."
Hey, what does Mariotti think of the place?
Classic footage of the Bears playing there.
Seriously, though, is the place going to be sold?
People partying at the rooftops across the street.
Ernie's statue.
HBO's documentary Wait Till Next Year, which was fairly amazing.
Ron Santo: This Old Cub is also tremendous.
And for no apparent reason, the intro to Perfect Strangers.