CLIP REEL: ATHLETES AND MILITARY SERVICE
by Ted Bauer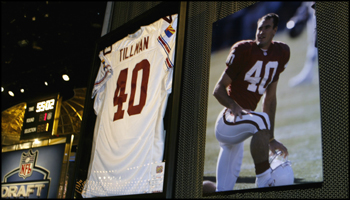 Getty Images
An American hero.
Rick Reilly's new column details the Calen Campbell situation with the Detroit Lions (read it here). As a result, we're dedicating Clip Reel to athletes and military service. We're hardly experts on the matter, but we once did an All-World Power Rankings on the concept.
Here's a detailed quiz on the subject.
Ted Williams talking war and baseball.
A rather comprehensive video tribute to Teddy Ballgame.
Roy Firestone interviewing Ted Williams. You know this is going to be good.
Paul Simon honors the man.
A tribute to Pat Tillman.
Another one.
The Tillman Memorial Run at ASU.
Part of the hearings on the Tillman situation.
Roger Staubach at Navy.
Christy Matthewson had some service time.
You can read more about it here.
Bob Kalsu lost his life in Vietnam.
Here's his memorial on the Virtual Wall.
There's a Replacement Company named after him.
Here's a good story on him.
A good NBC Sports web piece on athletes in the military.
Song about Hank Greenberg, who also served.
More on that.
Good webpage on how baseball has survived wartimes in the past.
WWII museum online has a section on when baseball went to war. Very informative.
Another article, also discussing the rise of the women's game during the time.
In that spirit, here's the end of A League of Their Own.
Babe Ruth and Walter Johnson had a charity event for war relief in '42. Here's video.
Really detailed article on professional athletes and the USO.
We'll end on an up note. Bob Hope = golfer = kind of an athlete.
And so, Bob Hope with Mickey Mantle = glorious.