THE MAG.COM PRESENTS:
ALL WORLD POWER RANKINGS
by Ted Bauer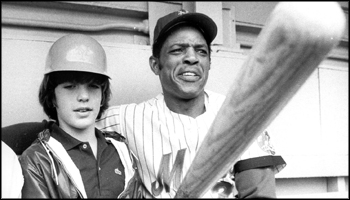 Getty Images
WHEN IT COMES TO GUYS WHO LOOKED SUPER WEIRD IN NEW JERSEYS, WILLIE MAYS AS A MET WAS THE CREEPIEST
Brett Favre wearing a Jets jersey? That's creepy. It's happened a bunch of times in sports, though: guys putting on jerseys that make you rub your eyes thrice. Here's a Rankings on some of the most pertinent examples. Sidebar question: if the Celtics had imploded this year, woud Kevin Garnett make this list?
TOP 5
RANK (YESTERDAY)
WHAT
WHY
1 (68)
WILLIE MAYS AS A MET
If you poll 100 baseball guys, probably over 50 say he's the best player of all-time. Played every season as a Giant—NY and SF—but retired as a Met. Just doesn't seem right.
2 (62)
JOE MONTANA AS A CHIEF
We love Steve Young (dude works for us) and it was his time around the early 1990s. Still, Montana retiring as a Chief—even though that MNF duel with Elway was epic—was fairly eerie.
3 (79)
JOE NAMATH AS A RAM
"Broadway" Joe? BROADWAY! It's a New York concept! Like rudeness.
4 (92)
MICHAEL JORDAN AS A WIZARD
This probably should be higher (yell at us in the Comments). He was actually decent on the court (he's Jordan, so it makes sense), but some moves over there—Kwame, for example—slightly diminished his legacy.
5 (87)
JOHNNY UNITAS AS A CHARGER
Possibly the best quarterback of all-time. A Colt forever, then ended up wearing the Bolts colors. Odd, because we're only cool with Dan Fouts—and to a lesser extent, Stan Humphries—wearing those colors.
HONORABLE MENTION
RANK (YESTERDAY)
WHAT
WHY
82 (139)
PATRICK EWING AS A MEMBER OF SONICS/MAGIC
Know the iconic photo of Ewing with his arms out as MSG rocks? There's a reason that picture wasn't taken at Key Arena or The O-Rena. Ewing should never have worn those jerseys.
103 (1,870)
EMMITT SMITH AS A CARDINAL
Bizarre: one of the best running backs ever retires with arguably the worst professional franchise in sports. Just didn't seem right.
RISING AND FALLING
MOVEMENT
WHAT
JOHNNY DAMON AS A YANKEE (Weird because he hit the Game 7 grand slam and hasn't been back to a WS since.)
WAYNE GRETZKY AS A KING (Super weird if you're Canadian, for sure; we'd argue it's weirder when he played for the Blues in '95-'96.)
For more All-World Power Rankings,
CLICK HERE