THE PAC-10
All USC, all the time? Or is this the year another team breaks through?
by Magazine Staff

ESPN The Magazine design
This is the nation's best offensive conference—again. And USC is the team to beat—again. Even so, in this league you must answer points with points and USC's offense has many questions. QB Mark Sanchez has shown flashes of brilliance, but talented WRs Vidal Hazelton and David Ausberry have yet to deliver. Oregon should be very good, with the best Ducks D since their 2001 BCS team. And Arizona State has the Pac-10's top QB, Rudy Carpenter. But with four new starters on an O-line that gave up 55 sacks last year, protecting Carpenter will be an issue—all together now—again.
- ROD GILMORE
THE ELIMINATOR
All Pac-10 champs of the past five years have had certain things in common (most significant, they all shared the letters U-S-C). Looking at returning players and last year's stats we pick who will surpass every hurdle this year.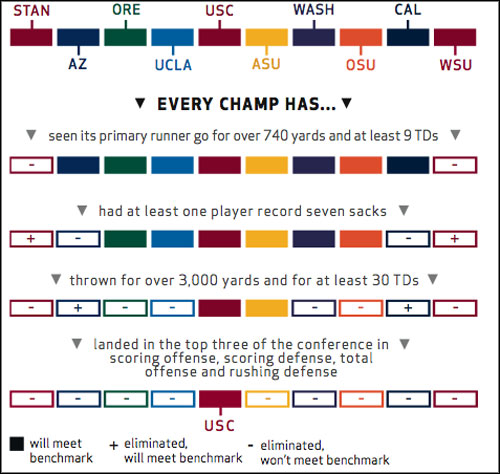 ESPN The Magazine design
BOMBS AWAY!
In the past 10 years, no conference has had more success through the air than the Pac-10, as the league ranks first in both 3,000-yard passers and 1,000-yard receivers. In case you were wondering, three QBs and two WRs hit the marks last season.

ESPN The Magazine design
A LEAGUE OF LONG ROAD TRIPS
The Pac-10 racks up serious frequent flyer points, averaging more miles per nonconference road game than any other BCS league. And it's second only to the Big East in percentage of noncon road games. The longest road a Pac-10 squad will travel? Cal makes a 5,616-mile round trip to College Park, Md., to play the Terps on Sept. 13.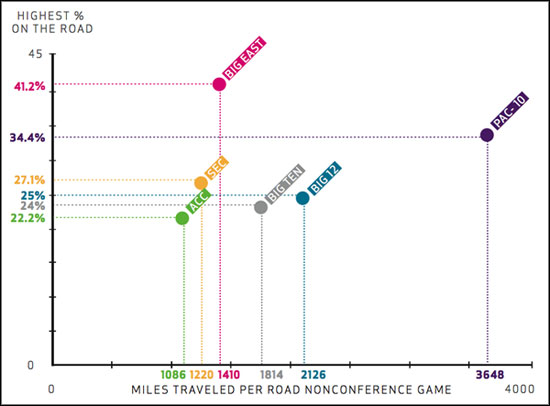 ESPN The Magazine design
TEAM BY TEAM
1. USC
Offense gets the hype, but Pac-10's stingiest defense (16 ppg) returns seven starters and deserves the love.
2. ARIZONA STATE
QB Rudy Carpenter has power tools in RB Keegan Herring and WR Chris McGaha. He'll need 'em Sept. 20 vs. Georgia—and later on consecutive road trips to Cal and USC.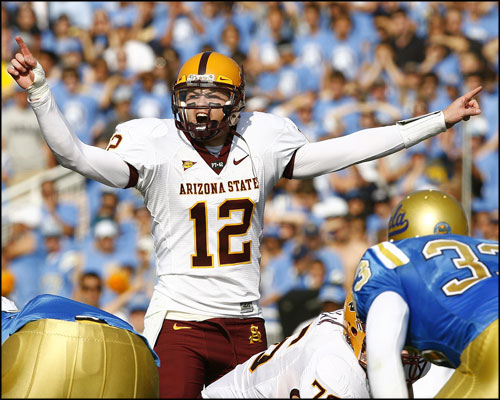 Getty Images
3. OREGON
Cup half-full: This might be the Ducks' best secondary ever. Cup halfempty: That same group allowed 249.2 passing ypg last year.
4. CAL
Coach Jeff Tedford says RBs Jahvid Best and Shane Vereen are his best rushing attack yet. That's great—as long as QBs Kevin Riley and Nate Longshore don't implode.
5. OREGON STATE
We'd be believers in the Beavers (27.9 ppg last year) if it weren't for their holes-inthe-dam defense (22.6 ppg and an entirely new front seven).
6. UCLA
Only two offensive linemen played a down last fall, which means a QB could end up hurt for the fourth straight year.
7. ARIZONA
How good is senior WR Mike Thomas? So good that he averaged more yards on his 10 carries (17.3) than he did on his 83 catches (12.5).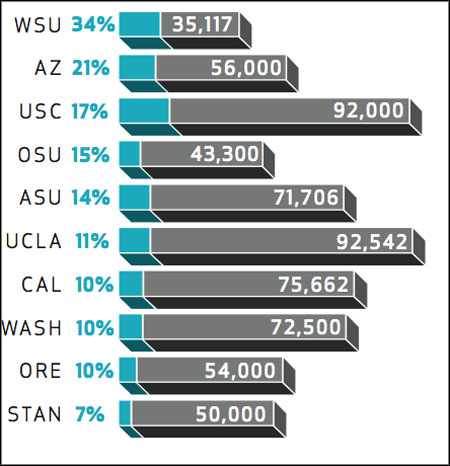 ESPN The Magazine design
See how Pac-10 student sections rank by percentage of stadium capacity.
8. STANFORD
Yes, the Cardinal have the Pac-10's most returning starters (16). No, nobody else plays seven road games. Maybe Stanford wins two of them.
9. WASHINGTON
For the Huskies to gain ground, soph Jake Locker's arm (Pac-10-worst 47.3% completion rate) must catch up with his legs (Pac-10-best 986 QB rushing yards).
10. WASHINGTON STATE
Good special teams win close ones. Which explains the Cougars' 1—7 record in three point games since 2005. And why Paul Wulff is now their head coach.