THE "OTHERS" CONFERENCE PAGE
How legitimate is BYU going to be this year?
by Magazine Staff

ESPN The Magazine design
Any non-BCS team that wants a title shot had better go undefeated, which explains BYU's 2008 motto: "Quest for perfection." And the Cougars have a chance, with a stocked offense led by QB Max Hall and RB Harvey Unga. Watch Fresno State, too. With 16 starters back, including QB Tom Brandstater, the Dogs start at Rutgers, host Wisconsin and end at WAC stalwart Boise State—three potential BCS haymakers. What's that? Whither Notre Dame, you ask? Well, Charlie Weis can recruit and call plays. But can he lead young men? Dunno yet. That's why I'm saying eight wins. Which is far from perfect.
- TREVOR MATICH
THE ELIMINATOR
Five non-BCS teams have earned at-large BCS bids since 2003. All have had these four benchmarks in common. Looking at returning players and last year's stats, we predict which teams will pass each test this year.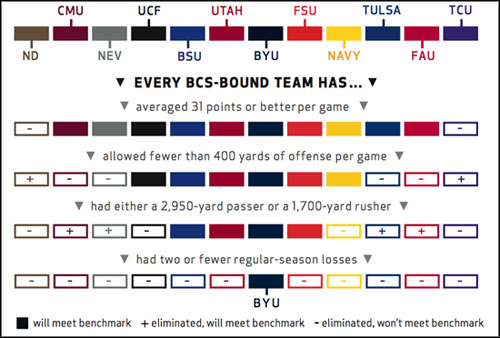 ESPN The Magazine design
JUST AS MUCH TO GAIN
When it comes to picking up yards, small-school running backs can do just as well as their BCS-conference counterparts. But what happens when the little guys square off against the big-conference schools, and vice versa? NOTE: STATS FROM GAMES AGAINST FCS OPPONENTS WERE NOT INCLUDED.

ESPN The Magazine design
LITTLE LEAGUES, BIG GAMES
In order for non-BCS conference teams to get respect, they have to knock off the big guys from time to time. Which little league has done it the best over the past five years?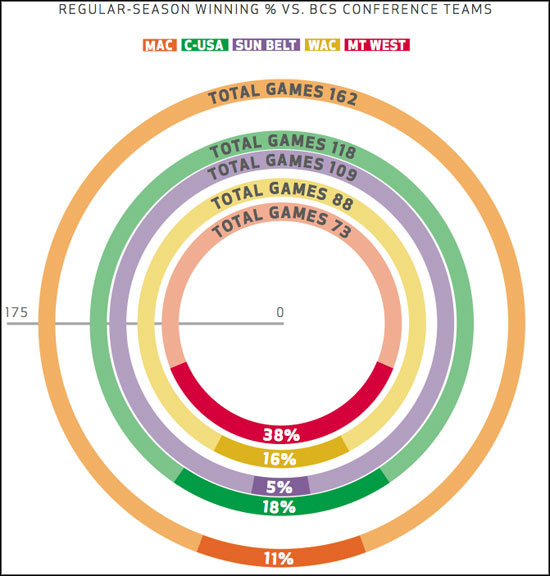 ESPN The Magazine design
A LOOK AT SOME OF THE TOP OTHER TEAMS
1. BYU
Only team to go unbeaten in a conference for the past two years. Of course, Cougs lost four outside MWC.
2. FRESNO STATE
Its motto should be "Survive September!" Trips to Rutgers, Toledo, UCLA and a visit by Wisconsin make WAC look easy.
3. UTAH
Top seven rushers return, including Darrell Mack (1,204 yards). Beat BYU in "Holy War," and Utes may make pilgrimage to a BCS bowl.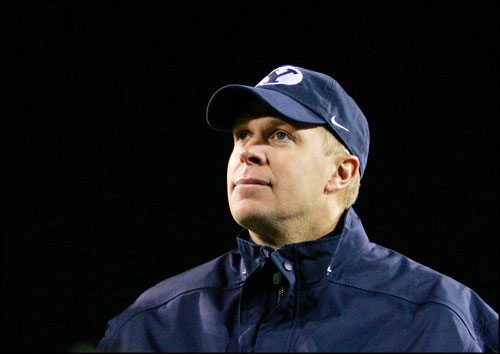 Getty Images
4. NOTRE DAME
Fourth-year coach Charlie Weis can't blame a roster full of another coach's recruits. With three strong classes, odds are he won't have to.
5. BOISE STATE
Best hope to beat Oregon and end a 13-game road skid vs. BCS schools? RB Ian Johnson (46 career TDs).
6. NAVY
New coach Ken Niumatalolo needs QB Kaipo-Noa Kaheaku-Enhada to dish ball in deep option attack. Play-by-play guy needs a raise.
7. TCU
Live by run, die by fumble. MWC's No. 2 rushing attack (189.1 ypg) led conference with 16 total cough-ups.
8. TULSA
No. 1 offense (543.9 ypg) paired with 108th D (451.9)? Pack a lunch—maybe dinner, too!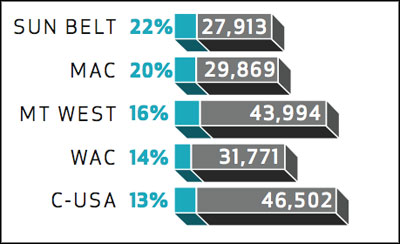 ESPN The Magazine design
See how these non-BCS student sections rank by percentage of average stadium capacity per conference.
9. CENTRAL FLORIDA
Nine return on D that held Tulsa to 139 yards below average in two UCF wins. Too bad that 2,600-yard back Kevin Smith does not return.
10. NEVADA
Lanky, 6'6" Colin Kaepernick's game (19:3 TD-to-INT ratio, 5.6 ypc) compares well with Vince Young's. But probably not if VY played in the WAC.
11. CENTRAL MICHIGAN
Tebow-like stats (27 passing TDs, 19 on the ground) could gain QB Dan LeFevour early Heisman cred. As long as he keeps Chipps in game at Georgia on Sept. 6.
12. FLORIDA ATLANTIC
With September trips to Texas and Michigan State, Owls are BCS long shot. But hello, New Orleans Bowl!