THE SPORTING EQUIVALENCY:
CASEY AFFLECK
by Ted Bauer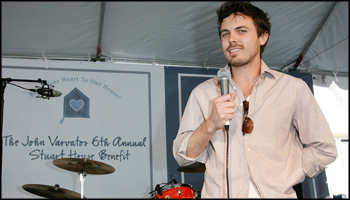 Getty Images
You're the man now, dogg.
Hey, it's Casey Affleck's birthday! Snickering from the peanut gallery: who cares? We want Ben! He's the one with Jennifer and the bankable movies, right? Eh, to an extent. Consider: Casey's first film role was
To Die For
, arguably one of the most underrated movies of the 1990s (possibly Nicole Kidman's best-ever role). He was in
Good Will Hunting
too, dropped in to
Ocean's Eleven
, was pretty awesome in
Gone Baby Gone
, and got an Oscar nod for
The Assassination of Jesse James by the Coward Robert Ford
. Bonus:
Summer Phoenix, his wife, is also quite attractive.
Overall, what we're saying is simple: don't always assume Casey is the "lesser" Affleck. This situation arises often in sports too. To the Sporting Equivalency!
Casey Affleck's MLB Equivalent: Robinson Cano


2007: Cano goes for 19 HR, 97 RBI, bats .306, and has 189 hits. Every year after the All-Star Break, he hits the cover off the ball (he's batting .281 across his last 10 games right now). Uh, he shares an infield with Alex Rodriguez, Derek Jeter and Jason Giambi. That's kind of like your brother being engaged to J-Lo while you're in Drowning Mona with Bette Midler, eh?




Casey Affleck's NBA Equivalent: LaMarcus Aldridge


We'll admit; we're a little obsessed with the potential of Portland. Still, consider: Aldridge goes for 17.8 and 7.6 in his second year in the league, and mostly you just hear "Greg Oden this" (legitimate) and "Brandon Roy that" (legitimate, sure—we nominated him for NEXT!). Now we're hearing "Bayless will be incredible out there!" Where's the love for LaMarcus? He's already doing it. Oden hasn't done anything yet, which is kinda like making Jersey Girl. Zing.





Casey Affleck's NFL Equivalent: Eli Manning


Obvious, right? Younger brother in the shadow, breaks out in his own way around 2007. No one will ever confuse Casey and Ben (for our money, his best role ever was Boiler Room), much like the Manning brothers. But the Oscar nod for Assassination and a role in a new Ridley Scott noir movie is moving Casey up the chain, like escaping the pocket and finding Tyree. Whatever works, ya know?







Casey Affleck's Olympic Equivalent: Aaron Piersol


Dude swept the backstroke medals in Athens. Set a world record in the 100 meter backstroke last night in Beijing. All ya hear about is Phelps. Bonus: Piersol has a sister, Hayley, who's a top swimmer at Auburn. Ah, siblings excelling at the same vocation. Where have we seen that before?

For more Sporting Equivalencies, CLICK HERE