IN YOUR GRILL: CALLING ALL TAILGATERS
by Mag.Com Staff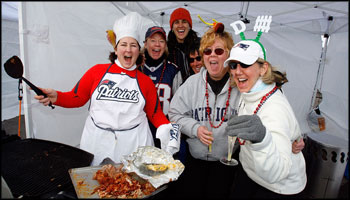 Getty Images
If this is your idea of a good Sunday, you might want to read this post.
You ever tailgate? Chances are good the answer is "yes." Ever casually remark to a friend, "No one does brats better than us?" Of course you have. This corner of the Internet may be for you. ESPNTheMag.Com is starting up a device called In Your Grill. If you think you're a super tailgater, why don't you send us some video of you doing just that? We'll feature it! If you've got a particularly good story from the tailgating scene ("You'd never believe what happened after I put the pig on the spit!"), send us that too. So, to be clear:
UPLOAD VIDEO OF YOURSELF TAILGATING HERE
E-MAIL US YOUR TAILGATING STORIES HERE.
BONUS: CHECK OUT THIS PIECE FROM ESPN TRAVEL ON TAILGATING!