CLIP REEL: LEARN MORE ABOUT
EAST CAROLINA
by Ted Bauer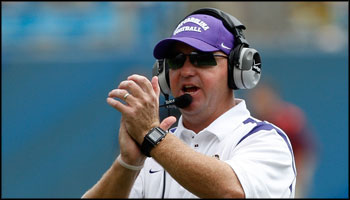 Getty Images
Skip to his Lou, indeed.
[Ed's note: No idea what 'Clip Reel' is? Please go here.]
East Carolina—best known until a few weeks ago as the alma mater of David Garrard, probably—has made it look easy against two schools in the Top 20 and as a result is now No. 14 themselves. Awesome. Do you know anything about the place? We'll help you out.
Here's a good resource on the school overall.
Here's a good resource on the school's athletic teams.
Dowdy-Ficklen Stadium is their home base for football.
Detailed history of their football program to date.
This video is a similarly detailed history of their football program.
Another good video, about twice as long as the one above.
Here's a look at some key members of their team this season.
David Garrard scrambles, including some from the college days.
Do you remember their landmark 1983 season? Well, now you can.
Here's some intro video of the guys this season.
One-on-one interview with Skip Holtz via ESPN.
Here's the official team page.
Vote Pinkney Player of the Week!
Here's how you know football is big there: traffic issues before and after the WVU game.
So could they crack the BCS?
Here's their schedule. You can be the judge.