The guy behind the guy behind center
NFL washout Steve Clarkson is now
the most powerful QB coach in football.
by Alan Grant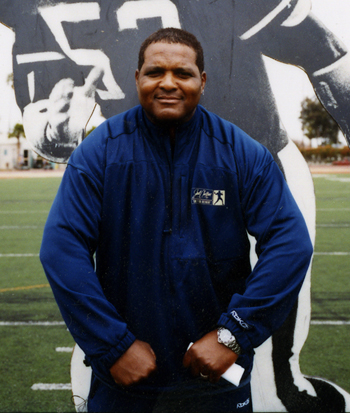 Ed.'s Note: In the wake of David Sills' verbal commitment to USC -- at age 13 -- we thought it would be a good idea to revisit this ESPN Magazine piece on his personal QB coach Steve Clarkson. When it ran in September of 2008, Clarkson had already made a name for himself. Given the news about Sills, we imagine that that name will only get bigger.
The 1983 NFL draft, which included John Elway, Jim Kelly and Dan Marino, was dog-eared for posterity. But Clarkson believed he belonged. And he wasn't alone. After Miami picked Marino at No. 27, Mel Kiper said the next best QBs were Northwestern Louisiana State's Bobby Hebert and a kid from San Jose State named Clarkson. Hebert had signed with the USFL, but Clarkson clung to his NFL hopes.
Twelve rounds later, he was still waiting for a phone call. "Hurt is an understatement," he says. "After what I did in college, in the system I played in, and who coached me, it was more like disbelief."
In the early '80s, San Jose State was coached by Jack Elway, John's dad and a pioneer of the spread offense. In three meetings with John's Stanford teams, Clarkson and San Jose State won twice. That included a 35-31 thriller their senior years in which Clarkson threw for 285 yards. Still, Elway would win in the long run. Two days after the draft, Clarkson signed as a free agent with the Broncos. A week after that, Elway, following his refusal to play for the Colts, was traded to, you got it, the Broncos.
Clarkson was cut after a year as Denver's third QB. After two forgettable seasons in the CFL with Saskatchewan, he moved home to LA. He had a wife and two kids; he took a job as a district manager for Black Angus Restaurants. And he was content. But one of his aunts wasn't convinced. When she saw a newspaper ad seeking a youth football coach, she encouraged Clarkson to apply.
If timing is everything -- and it is for a quarterback -- then Steve Clarkson was blessed from the start. The ad was from a man named Danny Klein. He wanted his 15-year-old son, Perry, who juggled football, volleyball and gymnastics, to get more direction. So Clarkson put the kid through drills he had perfected as a player: how to set his feet, how to throw with his shoulder, not his elbow, and where to place the ball. "It began as a hobby," says Clarkson. "A way for me to have fun on the weekends."
By Klein's senior season, at Carson High, he was hanging monster stats -- like 46 of 49 for 567 yards and 8 TDs in one game. The Pasadena Star News heard about the prep phenom's private tutor and wrote a story about him, including his methods and where he trained Klein. A week later, 80 kids and parents showed up at the field. "I was just getting some spare change at the time," Clarkson says. "Then all of a sudden it was a business."
In 1987 Clarkson took a leave from Black Angus to devote himself full-time to his business, dubbed Air 7 in honor of his number at San Jose State. Business was so good Clarkson never went back to the restaurant biz. "I still can't believe it," he says.
This fall, he'll watch his pupils compete at college football's highest levels. On Sept. 13, Clarkson alums Todd Boeckman and Terrelle Pryor will split time as Ohio State takes on USC. When Arizona and Arizona State square off in December, Clarkson will be a winner either way -- he coached Rudy Carpenter (ASU) and Willie Tuitama (UA). And whenever Notre Dame plays, Clarkson's most infamous student, sophomore Jimmy Clausen, has last year's phenom, Dayne Crist, nipping at his heels.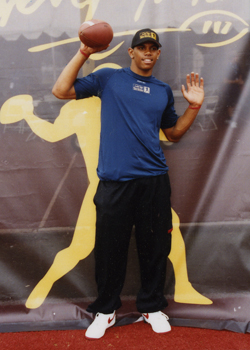 Chris McPherson
Clarkson's clients include the top QB recruits from the past two seasons: Terrelle Pryor ...
These players are all extensions of the Steve Clarkson brand. The Steve Clarkson Elite Quarterback Academy has 20 staffers and uses former college QBs and coaches to teach its clients. Working with Clarkson requires at least a yearlong commitment. The cheapest deal is $625 a month, which includes 48 sessions a year but no one-on-one instruction. The camps can go 125 QBs deep, and smaller groups and film work cost $1,200 monthly. For $2,500 kids get one-on-one attention and half the sessions at home, but not always with Clarkson. Getting the kingmaker all to yourself runs as high as $8,500, assuming you pass a private, two-day evaluation that costs $3,000 plus travel expenses.
Current pros like John Beck, Matt Cassel, Ken Dorsey, Matt Leinart, Jared Lorenzen and Ben Roethlisberger have all spent time with him. Even Hall of Famers swear by him. Two years ago, a woman who identified herself as Jennifer Montana called Clarkson. "I was thinking there could only be one Jennifer Montana," he says. Turns out Jennifer, Joe's wife, had asked Charlie Weis for Clarkson's number. The Montanas wanted him to tutor their sons, Nick and Nate, then 14 and 16 years old. So he flew up to Calistoga, Calif., for a session.
When he drove out to the field, "I'd never been so nervous," says Clarkson. "Joe and Jennifer set up a blanket and had drinks. While I was working, I couldn't help but wonder, What is he thinking?" Midway through the session Montana said, "You're doing a great job. I gotta go. See you later."
This past summer, Nate walked on at Notre Dame, and Nick transferred from Concord's De La Salle to Oaks Christian outside LA -- where he's competing with six other QBs, including Wayne Gretzky's son, Trevor -- partially so he could be near Clarkson.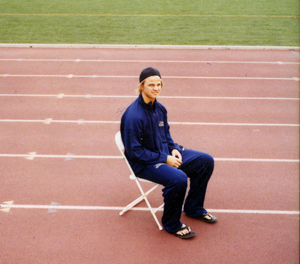 Chris McPherson
... and Jimmy Clausen.
Clarkson is the latest, and most corporate, of the QB gurus who have dominated California football for more than two decades. Bob Johnson, father of ex-NFLer Rob, has helped guide Drew Brees, Tim Rattay, Carson Palmer and David Carr -- and, like Clarkson, lays claim to Matt Leinart. Marv Marinovich's best known pupil is his son Todd, who famously flamed out, but he still teaches plenty of NFL wannabes through his Sports Lab facility, in Orange County.
The knock on these guys is that they're influence peddlers, linking big-name stars to big-name programs. Not that different from AAU basketball coaches. But they'd argue that they've simply slipped into a void created by overtaxed coaches. Clarkson's devotion to the teaching of fundamentals is why his clients are dedicated to him. In high school, "your coach is probably a health teacher, or physical education teacher," says Clarkson. "He may even be the baseball or basketball coach." College coaches are bound by 20-hour-per-week limits, so they mostly focus on implementing game plans, not on fixing throwing motions. "My position coaches were always telling me, 'We need more individual time,' " says Roger Theder, who led Cal from 1978 to 1981 and now does private tutoring. "I knew that, but we had only so much time to get into that week's game plan."
The biggest knock on Clarkson is that his operation is too big, that he thinks too much about "going global," as he says. Mike Forcier feels that way. His son Tate recently verbaled to Michigan from Scripps Ranch High in San Diego, following brothers Chris (UCLA) and Jason (Stanford) as a big-time college QB. "Steve was more into promoting than coaching," says Forcier. "It's like a big cattle call. That's what it is. It's all about promoting his guys and himself." He says that's why Tate practices with Marinovich.
Clarkson says his business is about preparing players for football careers. "I tell them that they have to make their coach comfortable," he says. "Coaches have to be able to look you in the eye and know you're the guy who's gonna get them their contract extension." And that's why many coaches -- including Pete Carroll, Mark Richt, Jim Tressel and Weis -- are comfortable with Clarkson. Just ask Ohio State QB Terrelle Pryor, the nation's top recruit last season, why he worked with Clarkson this past summer. "Because Coach Tressel said I should."
---
On a damp, overcast Friday morning in May, more than 100 kids, ages 8 to 18, line the field at Santa Barbara City College to begin a three-day camp called the Super 7 QB Retreat. It feels more like roll call for the ESPYs. In front of the bleachers, Snoop Dogg chats with reporters as a crew from his show, Father Hood, films from afar. Behind a goalpost, Joe and Jennifer Montana watch drills in silence. And on a folding chair behind the end zone, Wayne Gretzky has a conversation with Trevor.
When practice begins, Clarkson leads his charges through the finer points of the deep ball. The QBs throw to high school receivers lined up 10 yards from the sideline. The first receiver releases upfield and Crist simulates taking the snap. He retreats seven steps into the backfield. His head is up, and his right shoulder is already cocked when he hits his seventh step. He waits for his receiver to get further upfield and Clarkson yells: "You don't have to throw it 70 yards -- it can be 40 yards!"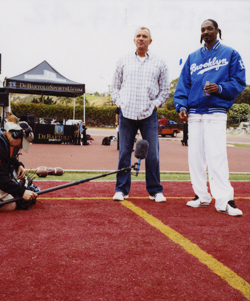 Chris McPherson
Even celeb dads like Montana and Snoop know to stay on the sideline when Clarkson works.
Dayne Crist has worked with Clarkson since the seventh grade. "At first, I just wanted to start for my high school team," says the native of Canoga Park, Calif. He credits Clarkson with his best throw, the deep comeback. On that play, the QB takes his seven-step drop as the receiver runs 17 yards downfield, stops, then angles back upfield toward the sideline. With the QB throwing across the field, the play takes a long time to develop; anything less than perfect timing usually leads to an interception. Crist threw just one pick as a senior at Notre Dame High School in Sherman Oaks, Calif. "Steve has helped me with my timing," he says.
As the day progresses, Clarkson leads a myriad of drills. Most of what he teaches has come from his own experience. "It began with the late, great Jack Elway," he says. "Also Dennis Erickson, who was my offensive coordinator in college." After a water break, Clarkson has the QBs pair up and stand five yards apart. He tells each one to go through his delivery in slow motion. "I want you in an extremely conscious state," says Clarkson. It's his way of injecting the principles of tai chi into the mechanics of football. "Ever see those old guys doing this in the park?" Clarkson asks. "They can whip your ass." There's some giggling from the group, but to a man, the quarterbacks fall in line with the sensei.
One of Clarkson's devotees is Matt Barkley, who some say is the top recruit for 2009. With a freshly scrubbed baby face and tousled blond hair, Barkley resembles Calvin of the Calvin and Hobbes comic strip. He's been with Clarkson since the ninth grade, and now he's Mater Dei High's first four-year starter. Not even former Mater Dei quarterbacks Matt Leinart and Colt Brennan can claim that.
Clarkson guides Barkley through a ball-placement exercise. "Load up on that back hip, and follow through," he yells. "I want the ball six feet off the ground for 40 yards!" Barkley does what he's told and throws a strike. Barkley has already announced for USC, but he brazenly looks beyond that. "I've been with him all through high school, and I plan to work with him through college," says Barkley. "What Steve does prepares you for the league."
Because, as Clarkson knows, you can't leave everything up to timing.
Alan Grant is a contributing writer for ESPN The Magazine.