CLIP REEL: SHAWNE MERRIMAN'S VALUE
by Ted Bauer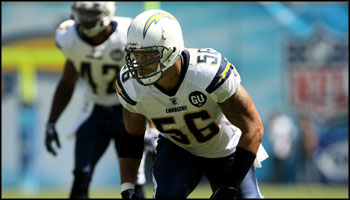 Getty Images
Not the best week for the San Diego Super Chargers, eh?
[Ed's note: No idea what 'Clip Reel' is? Please check this out.]
AFC picture is shaken up, eh? Tom Brady's done; Pats are still strong, no doubt, but not as strong. Now Shawne Merriman—perhaps from seeing how quickly it can all go up in smoke—is out for the season too. Chargers: still strong, but not as strong. You taking 10 bucks to Vegas on Pittsburgh after how Indy looked last Sunday night? No matter. We wanted to take a second to showcase how important Mr. Lights Out is for the Chargers.
His Wiki.
His Pro Football Reference.
His NFL.Com page, with a bunch of videos.
Obligatory picture of him and Kendra.
Hey, Sam Alipour once hung out with him at the Playboy Mansion. Ha.
Rather good tribute video.
Ditto, including footage of him at Maryland.
This guy wrote a song called "Lights Out" and put it on his MySpace, then set a video of Merriman to it.
Funny ad with Merriman.
Nice Merriman slide show.
Rookie year clips.
How amazing is this NIKE commercial directed by Michael Mann?
Beautiful woman interviews Merriman. Sadly for the rest of us, this is probably not unique for him.
Merriman absolutely blows up a dude on Georgia Tech when he was a frosh at Maryland.
On the flip side: Merriman getting blown up by Maurice Jones Drew.
Field-level camcorder video of a Merriman sack from '06.
Want to see clips from Shawne's birthday party? We got 'em.
Bleacher Report article from a while back underscoring that Merriman shouldn't be playing.
Good interview with Scout.Com.
Sporting News piece on Merriman.
Good San Diego Union Tribune profile of Merriman.
BoltsPlanet commentary including Merriman pieces.
This seems like an only logical - and hysterical - place to end.