CLIP REEL: OWENS AND MCNABB
by Ted Bauer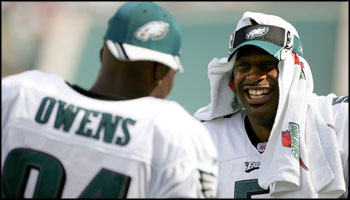 Getty Images
Happier days.
[Ed's note: First experience with 'Clip Reel?' Click here for more info.]
Monday Night Football should be cool tonight: Eagles rolled the Rams last weekend; Cowboys did the same to everyone's darling, the Browns. Jessica Simpson's apparently gonna be there. And of course, T.O. vs. Donovan. Let's take a walk down memory lane with their relationship.
Bonus: an ESPN The Magazine 'For Love or the Game' video pitting Jon Runyan's wife against Tra Thomas to see who knows him better will air on Monday Night Countdown tonight (7pm ET, ESPN).

Pretty much one of the best summaries of Owens/McNabb you'll ever watch.
This is just funny.
Man on the street style regarding the feud.
Graham Bensinger interview with T.O. in 2005.
Part II of said interview.
NFL Live talks about it.
Owens on Dateline.
Cowboys fan mocks the entire thing.
Here's the famous Eagles/Cowboys game last season when Romo played poorly "because Jessica was there," thrown in for fun.
Classic photo of McNabb and Owens hugging at the Super Bowl in Miami a few years ago.
Seriously, is this thing even a feud anymore?
Eh, it always will be.
Decent summary of the feud and the entire "Owens-and-the-Eagles" situation.
McNabb's comments on the situation to Michael Smith.
Eagles fan uploads YouTube clip about it, claims it's "insider information." Love the era we live in.
McNabb and Owens in happier times.
Shameless plug: start your Monday night here.