THE MAG.COM PRESENTS:
ALL WORLD POWER RANKINGS
by Ted Bauer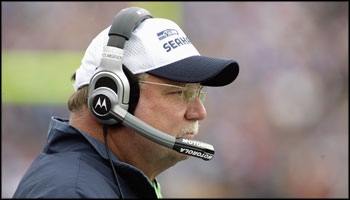 Getty Images
BEST QB MENTORS EVER? HARD TO IGNORE MIKE HOLMGREN
[Ed's note: Not sure what All-World Power Rankings is? Please click here.]
The current issue of ESPN The Magazine has a piece on Steve Clarkson, a NFL washout who became one of the most powerful QB coaches around. QB mentoring is an important gig that can often advance your career. Consider: Brad Childress basically made himself a head coach for his work with Donovan McNabb. Who are the best ever at shaping the men under center? Let's take a look.

TOP 5
RANK (YESTERDAY)
WHAT
WHY
1 (14)
MIKE HOLMGREN
Three guys who cite him as an influence: Joe Montana, Steve Young and Brett Favre. 'Nuff said.
2 (41)
NORM CHOW
Dudes on his list: Matt Leinart (hasn't been a great pro, but was amazing at USC), Carson Palmer, Ty Detmer (see Leinart), and Philip Rivers. Bonus: he was planning to grab Matt Cassel when he went undrafted, but then Scott Pioli's intelligence got in the way.
3 (217)
DAVID CUTCLIFFE
Proof, meet pudding: last two Super Bowl winners (who happen to be brothers) both cite him as major influence on their development—and their father was a QB.
4 (127)
JEFF TEDFORD
He's always put on these lists. The one knock on him: most of his guys aren't great pros (granted, Dilfer won a Super Bowl). That could change with Aaron Rodgers looking like a NFL MVP through two weeks.
5 (899)
CHIP KELLY
We snuck him in here. Read this. Oregon of late: a team you don't really expect who subsequently blows up. Kelly knows what he's doing.
HONORABLE MENTION
RANK (YESTERDAY)
WHAT
WHY
18 (144)
TOM MARTINEZ
No idea who he is? Read this. That's a pretty important guy to develop.
28 (459)
MARK RICHT
Developed Ward and Weinke at FSU (one of our friends says FSU fell apart as a program the day Richt took the UGA job). Then helped develop David Greene and Stafford at UGA. Impressive resume.
RISING AND FALLING
MOVEMENT
WHAT
JOHN ELWAY (He's coaching his son.)
KEVIN ROGERS (Vikings' QB coach. We're just not happy with T-Jack.)