CLIP REEL: 'MY BEST FRIEND'S GIRL'
by Ted Bauer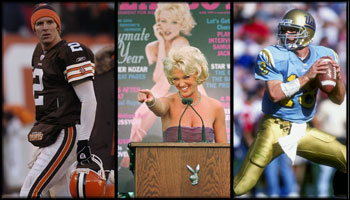 Getty Images
Shoulda been the movie poster.
[First experience with 'Clip Reel?' You can go here for more information.]
My Best Friend's Girl opens today. Put simply, it looks like the worst movie of all-time. Kate Hudson was great in Almost Famous (and we love her mom), but honestly: what happened there? Dane Cook should be opening stand-up acts in Pullman, Washington. Jason Biggs? We won't touch that. For some reason, the title My Best Friend's Girl created a discussion last night about the ol' Cade McNown / Tim Couch story, which is summarized here. (Side note: sports editor of Playboy once sighed when asked about Cade McNown in a discussion with us.) We thought we'd briefly honor all three parties.
Cade McNown's Wiki.
His uninspiring pro stats.
Here, he discusses his UCLA football experience.
Here are some highlights of McNown vs. Washington State.
The 1996 UCLA vs. USC game.
The 1998 version.
1997 version, complete with flashy open.
Here's the '95 game.
McNown and Skip Hicks just woodshedding Texas.
Couch's Wikipedia.
His pro stats.
Article claiming Couch "deserved better."
"Why Tim Couch didn't suck."
"The All-Bust Team."
Couch in the '98 Outback Bowl.
Couch's 4 TD game against Alabama in 1997.
Couch: 294 yards and 2 TD versus South Carolina in 1997.
336 through the air against Penn State in 1999.
Shreds Eastern Kentucky for five touchdowns in 1998.
Three touchdowns vs. LSU in '98. Check out the funky ESPN2 graphic on this game.
A Tim Couch slide show.
A profile on Tim Couch from his junior season at UK.
If you go to this guy's YouTube channel, he literally has every Couch highlight from UK football games right there.
Tim Couch in "How to Score a Playboy wife."
Speaking of which, here is Heather Kozar's Wiki.
Her official website (safe for work).
AskMen profile of her.
One pic of Heather and Tim together.