THE MAG.COM PRESENTS:
ALL WORLD POWER RANKINGS
by Ted Bauer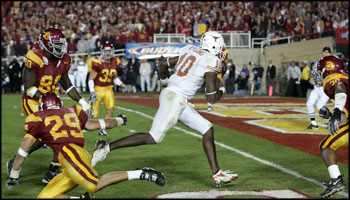 Getty Images
WHEN IT COMES TO THE BEST COLLEGE FOOTBALL GAMES OF THE BCS ERA, WE'LL RUN TO THE CORNER WITH VY ANY DAY
[Ed's note: Not sure what All-World Power Rankings is? Please click here.]
Today in 1951 was the first live sporting event seen coast-to-coast in the United States: Duke vs. Pittsburgh in football. (Times have changed, eh?) That, coupled with the barnburner finish of LSU vs. Auburn on Saturday night, got us thinking of the best college football games ever. That's a fairly Herculean task to rank, so we narrowed it to the BCS era. We did tend to slide towards championship-level games, since more is at stake. Give it a whirl.

TOP 5
RANK (YESTERDAY)
WHAT
WHY
1 (14)
TEXAS VS. USC IN THE ROSE BOWL (JANUARY 4, 2006)
We know the counter-argument: the game wasn't that exciting for three quarters. Still, possibly the most exciting championship game of any sport this decade and featured an absolutely ridiculous individual performance. Bonus: Lane Kiffin leaving Bush on the bench? Pffft. And you thought he'd last with the Raiders.
2 (41)
NOTRE DAME VS. USC (OCTOBER 15, 2005)
4th and 9? The Bush Push? One of the most unbelievably dramatic games you'll ever see, made even better by the fact it pitted two long-time rivals against each other.
3 (217)
BOISE STATE VS. OKLAHOMA (JANUARY 1, 2007)
Just watch and remember.
4 (127)
MICHIGAN VS. OHIO STATE (NOVEMBER 18, 2006)
Probably the best rivalry in college football saw a 1-2 game in November '06. It was Troy Smith's last game in Columbus, the winner would advance to the national title game, Bo died before it was contested, and it was a pretty captivating see-saw battle for most of the game. Relive it here.
5 (899)
PENN STATE VS. FLORIDA STATE (JANUARY 3, 2006)
Bowden vs. Paterno. Penn State's return to prominence. Entertaining, tension-filled 3OT game. Here's some video from the contest.
HONORABLE MENTION
RANK (YESTERDAY)
WHAT
WHY
18 (144)
MIAMI VS. OHIO STATE (JANUARY 3, 2003)
This was an amazing game: OSU completely stunned a NFL-talent-loaded Miami team, 31-24, in two overtimes to win Tressel his first (and currently only) national title. We'd rank it higher, but that pass interference penalty is still a dicey issue. Don't remember it? Here ya go.
28 (459)
TEXAS VS. MICHIGAN (JANUARY 1, 2005)
Not as good as the following year's Rose Bowl, obviously. However, this was a very entertaining game—it seemed like they'd never stop scoring—pitting two classic programs against each other. It set the stage for the year of Vince Young that followed.