CLIP REEL: THE USF BULLS
by Ted Bauer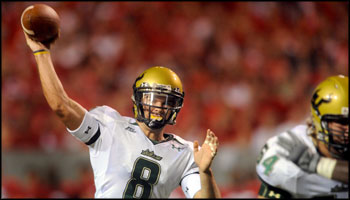 Getty Images
"Did you just poke me?"
[First experience with 'Clip Reel?' You can go here for more information.]
Met a British guy at a bar Saturday night. A few curious things about him: he claimed to have a five-year girlfriend (she was nowhere in sight, but he was flirting with others heavily); he claimed to have attended a few soccer game watches in Brooklyn with Steve Nash, who he deemed "a top fellow;" and he claimed diehard allegiance to the South Florida Bulls despite growing up in Manchester, England. Odd. Relevant, though! Look at their 2008 schedule. People may be aghast if they make a BCS title run, but they have a legit shot (West Virginia on December 6th seems the biggest hurdle.) Want to learn a little more about USF? You're in the right place. Start right here, with Wright Thompson's feature from ESPN The Magazine on DE George Selvie and his eating habits (hey, there's also a video!)
South Florida Bulls Wiki.
The official site, with a nice defensive highlights video in the player.
ESPN.Com team page.
Rather long, but comprehensive, fan tribute video.
Another one.
This was bad: when they were No. 2 last year and lost to Rutgers.
This was good: when they beat WVU last year.
Lou Holtz giving the Bulls a pep talk.
A Matt Grothe highlight video.
Apparently, Grothe is a rather active Facebook user.
When they beat Auburn in that September epic last year, Grothe was pretty good.
Dude can definitely escape pressure.
Here's a nice highlight reel of USF's entire 2007 season.
George Selvie's 2007 highlight reel.
Selvie's highlights from the win over UCF this September.
Odd clip of Selvie being hypnotized at a team function.
Grothe profile from ESPN.Com blog network.
Good local newspaper feature on Selvie.
Moise Plancher, the RB, is pretty underrated.
The New York Times comes right out and says it: USF has a shot to go undefeated.
But let's be honest: 'every week can change a season' and Pitt is getting ready for 'em.
List of notable USF alumni overall seems a good way to end.