FUN FACTS:
OKLAHOMA CITY THUNDER
The only team in a new city this season still has amusing stuff surrounding it.
by Ishita Singh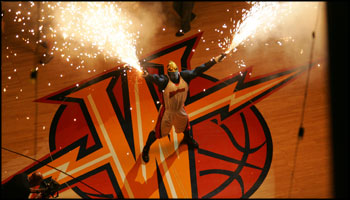 Getty Images
In our neverending quest to provide content that's both informative and entertaining, we're rolling out a 'Fun Facts' on every NBA team. No idea what that means? Check out the entries for the Washington Wizards and Memphis Grizzlies. Up now: the Oklahoma City Thunder, also known as The Team That Abandoned (depends on how you look at it) The Emerald City. We'll keep it fun, though. We promise.
1. The Thunder unveiled their new jerseys and logo last month. Let's just say we're Thunder-whelmed. Hey-O! We're here all week. Seriously. Try the veal.

2. Fans will have to wait for a mascot though. The team has no plans to debut one until the All-Star Break at the earliest. Maybe they can take Golden State's mascot, who's now out of work. It would make sense. His name is Thunder.
3. Oklahoma City first became an NBA city back in 2005. It hosted the New Orleans Hornets for two seasons after Hurricane Katrina, and David Stern was so impressed by fan turnout that he moved it to the top of the relocation list.
4. Stern did his homework: The Sporting News ranks Oklahoma City as the 79th best sports city. (Just as a reference point, Seattle checks in at 32…) Should be noted that the rankings were done before the team moved, though.
5. Robert Swift is one of the more…colorful centers in the league. At least his hair matches his new uniform.
6. You think the NBA will ever update this Kevin Durant ad ?
7. How soon before all of the old Sonics merchandise floods eBay? They're practically giving the stuff away.
8. Rookie guard Russell Westbrook is the cousin of Eagles running back Brian Westbrook.
9. Because it will be played at every single game at the Thunder's home arena the Ford Center, here's a link to AC/DC's "Thunderstruck."
10. Shameless ESPN The Magazine content plug: a look at the five biggest issues facing the team right now.