FROM THIS ISSUE: FIXING THE BROWNS
Can we cure the Browns offense?
by Mag.com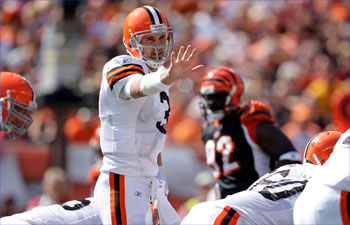 Getty Images
"Hold my calls. No, that's not a metaphor."
Well, this hasn't exactly gone according to plan. That's the lament of the Cleveland Browns, who were the league darlings even after the league announced the schedule and we could all see the road to their success would require some run-flats. Off to a 1-3 start and hosting what doesn't seem a stretch to call a "make or break" tonight against the Giants, the Browns have to start playing well, and now. Thankfully, in the current issue of The Magazine, we propose how to heal the Browns, and their woeful "O." Did Jason Langendorf, a Scouts Inc. dude who watches more film than Roeper, get it right when he said to bench Derek Anderson? Read on…
READ "HEALING POWER", ON HOW TO FIX THE BROWNS OFFENSE, HERE.