THE MAG.COM PRESENTS:
ALL WORLD POWER RANKINGS
by Ted Bauer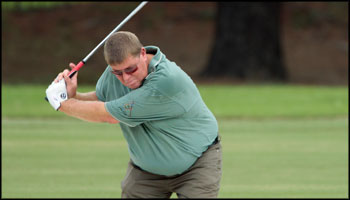 Getty Images
WHEN IT COMES TO THE GUYS WHO COULD HELP OUT ON WORLD FOOD DAY, WE'RE REMOVING PORTIONS FROM JOHN DALY
[Ed's note: Not sure what All-World Power Rankings is? Please click here.]
Today is World Food Day. Seemed logical to rank athletes who might want to skip a meal and help out those less fortunate. Two caveats here: (1) we're not exactly in shape either and these guys are professional athletes, so please, lay off the "What do U know?!?" in the comments and (2) we're not ranking D-Line and O-Line guys unless it's especially bad, because those guys are generally pretty huge (and can still run 4.7s). These are just some pretty big dudes, that's all. Number one seems fairly obvious, eh?

HONORABLE MENTION
RANK (YESTERDAY)
WHAT
WHY
82 (139)
MARK MANGINO
We know: not a player. But c'mon. When they all coached at Oklahoma, Stoops and Leach called him "Bear." Bonus: great T-shirt.
103 (1,870)
SEBASTIAN JANIKOWSKI
Take a look. We were going to put his boy JaMarcus Russell here, but he seems to be slimming a little. Side note: the amount of girls Janikowski probably landed at FSU is epic.
RISING AND FALLING
MOVEMENT
WHAT
TERRELL OWENS (He might start pigging out if Roy Williams takes away catches.)
TERRELL OWENS (Dude's got a book about fitness, though.)
For more All-World Power Rankings,
CLICK HERE