CLIP REEL:
MIKE SINGLETARY
The Bears legend takes over in the Bay Area. Learn more about him.
by Ted Bauer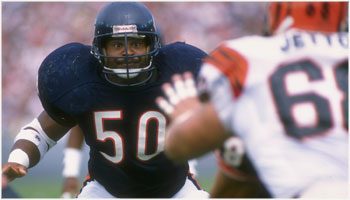 Getty Images
Somewhere, George Wendt is happy.
[Unfamiliar with 'Clip Reel?' You can click here for more information.]
The San Francisco 49ers haven't been very good of late. Blame Alex Smith if you want, or blame Mike Nolan. The latter point is somewhat moot, as he was fired yesterday and replaced with former Chicago Bears legend Mike Singletary, who was floated as a name for the Baylor gig last year. Want to learn more about Singletary, in between speculating how pissed Mike Martz might be about this? You're in the right place.
His Wiki.
Pro Football Reference.
His Pro Football HOF page.
His 49ers bio.
A video he made called "Lead Where You Are." Pretty cool.
Musical tribute to Singletary.
"Singletary Hunts Again."
He did a commercial for LensCrafters in 1992?
Wow, eight minutes worth of highlights from the 1981 Cotton Bowl.
A tribute to the Chicago Bears linebacking history.
Another commercial he did.
We nominated Patrick Willis for 'NEXT' last year and he claimed he owes a lot to Singletary.
Mike Singletary's effect on Ray Lewis can be documented here.
More on the Singletary-Lewis-Willis dynamic.
John Clayton thinks this is a good call.
So does the San Francisco Chronicle.
Niners Nation seems to like the move as well.
Connections between Singletary and Bill Walsh.
An interview we did with Fridge where he called the '85 Bears the best D ever.
This seems a logical place to end: The Super Bowl Shuffle.