CLIP REEL:
JOE PATERNO
One of college football's legendary figures.
by Ted Bauer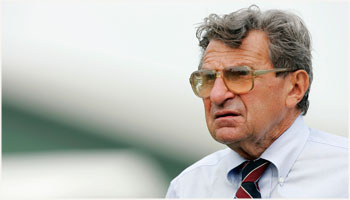 Getty Images
The man, the myth, the virtually undeniable legend.
[Unfamiliar with 'Clip Reel?' You can click here for more information.]
Joe Paterno is extremely interesting to us. How does a dude from Brooklyn become arguably one of the most important people in the history of western PA? How does anyone coach at one place for four decades in today's world? How many lives has this guy touched? Is Saturday night the biggest game of his life? Not even close. It's important, though: if he can drop Tressel in Columbus, he might be headed to another national title game. (Want to know Paterno's influence on others? Tressel on him this week: "What Joe Paterno has meant to this game - (pause) - it's just extraordinary the things he's accomplished.") We decided to take a brief look at the man. You can't encapsulate him in one Internet post, but if you're a Paterno fan, this might be a good 20 minutes of clicking for ya.
Wiki.
Penn State bio.
ESPN.Com page: "The Lion Passes the Bear."
A list of Paterno quotes over the years.
A good aggregation of newspaper articles about Paterno.
Good CBS Evening News profile on JoePa.
Here's his speech when he was inducted into the College Football HOF.
Here on Charlie Rose. It's a 56-minute clip, but honestly, it's worth watching almost the entire thing.
Paterno on ethics in sports.
This is the press conference after he found out he'd be inducted into the HOF.
Keith Jackson pays tribute to Paterno.
The 1979 Sugar Bowl: Bryant vs. Paterno.
Paterno reads aloud from his book "Playing for Paterno."
The JoePa Song.
Paterno quoting Hamlet, then winning the Big 10 title. Just watch.
This is a really good article by a former player on Paterno's legacy.
Good (funny) article about the relationship between Lavar Arrington and Joe, ultimately shedding a lot of light on the coach.
Pete Carroll: "I marvel at Joe Paterno."