NBA FUN FACTS:
UTAH JAZZ
Deron Williams has a Twitter feed. Tell us that's not fun.
by Peter Casey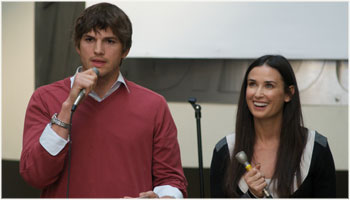 Getty Images
"Korver, you dog! You outkicked your coverage, bro. Oh wait..."
[Ed's note: We're rolling out a 'Fun Facts' on every team in the NBA before the season starts. For more information and to see the other teams profiled, please go here.]
The phrase "Stockton to Malone" used to conjure up the image of a beautifully threaded assist from one NBA great to another. Now it yields a RipOff Report about a questionable Honda dealership in a Google search. Anyway, as the modern day pick-and-roll tandem of Deron Williams and Carlos Boozer continue to gain cachet, Utah returns a steady mishmash of European bigs with range and secured a reliable backup PG to allow D-Will a tranquil breather. Unique? Definitely. Fun? We'll let you decide.
1. Kyrylo Fesenko is a textbook interview.
2) Thanks to a remedial Turkish recipe of bathing in olive oil and swallowing chewing gum, Mehmet Okur no longer has asthma. Don't try this one at home kids!
3) Kyle Korver considers the Ashton Kutcher comparisons to be trite and unwarranted. We beg to differ.
4) Deron Williams is getting around just fine with the sprained ankle, but he still may need some help moving.
5) A self-confessed computer gaming addict, Andrei Kirilenko must occasionally set an alarm clock to remind himself that he's being a geek.
6) Along with twin brother Jason, Jarron Collins was an attending guest recruit at former UCLA Coach Jim Harrick's infamous "last supper" that provoked his firing.
7) Morris Almond's 53-point outburst against the Bakersfield Jam last January is a D-League record—not bad for a Matt Harpring contingency plan.
8) Long before Michael Jordan pushed off on Byron Russell and solidified the Bulls' dynasty, Jerry Sloan was branded the "Original Bull."
9) Carlos Boozer once slapped a lawsuit on The Artist Formerly Known as Prince for distastefully painting parts of his multimillion-dollar mansion rental purple.
10) Speaking of purple, this short list would not be genuine without a nostalgic picture of John Stockton's trademark Huggies. Scroll down to the middle of the page please.