CLIP REEL:
PHILLY AND FUTILITY
It ends tonight. Right? RIGHT?
by Ted Bauer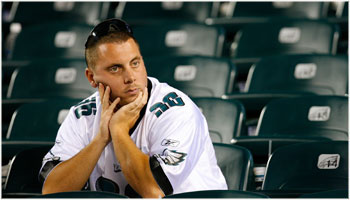 Getty Images
This guy summarizes a lot. After tonight, though, it could all be different.
[Unfamiliar with 'Clip Reel?' You can click here for more information.]
Popular argument of late: while the Cubs are a model for baseball futility, Philadelphia as a whole is a model for sports futility. Consider: Philly has four professional sports teams and none of them has won a title since 1983, when the 76ers beat the Lakers. So while the Cubs not winning a Series since 1908 is pretty bad, they did have a six-title run with the Bulls not too long ago. Tonight, this all probably ends. 3-1 lead with Cole Hamels on the mound in Philly? Check for guys with Walkmans and glasses at the gate, sure, but we think Jimmy Rollins is about to pop some Cristal. We honor the backbreaking past as it slides away. There aren't a ton of clips here because a few in the Internet ether convey the central message oh-so-well.
Five-minute clip entitled "The Life Of a Philadelphia Sports Fan."
Three minute clip of Philly sports fans talking about their teams.
Real Men of Genius ad about the concept.
"Portrait of a Philadelphia Sports Fan."
"Philadelphia Sports Horrors."
"A tribute to Phillies and Eagles fans."
"The Life of a Philadelphia Sports Fan."
This is unreal and really all you need in terms of editorial content: "100 Seasons, 100 Heartbreaks" from Sports Illustrated.