NBA FUN FACTS:
HOUSTON ROCKETS
Artest's red glare = fun (and potentially not so fun)
by Ted Bauer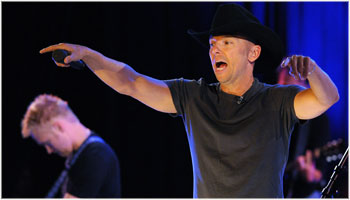 Getty Images
"Shane Battier can't cover me for jack."
[Ed's note: We're rolling out a 'Fun Facts' on every team in the NBA before the season starts. For more information and to see the other teams profiled, please go here.]
One of our staffers lived in Houston '03 to '05. The Rockets weren't huge (it was more an Astros town then), but the Toyota Center is nonetheless a pretty cool place. Still, this depressing fact remains: the most energy he ever saw there north of April? A WWE Raw show. The Rockets are right on the edge of something, but whether that "something" is "getting to the Western Conference Finals and losing" (see: 2004 T-Wolves) or "dropping another first round series to the Jazz" or "anything with a court of law and Ron Artest's pitbull" is up for discussion. The most unpredictable swing team in the NBA this year is the Rockets: they can either win it all or finish 9th in the West, we'd argue. Unpredictability is fun (cue generic reference to "being in your mid-20s"). Here we go with more stuff that is.
1. T-Mac dropping 13 points in 33 seconds on the Spurs was pretty ridic.
2. Ron Artest singing example No. 1.
3. Ron Artest singing example No. 2.
4. One of Yao Ming's funnier ads.
5. David Blaine's cultural appreciation of Yao.
6. Shane Battier attempts to do a country music song on karaoke. Jeez.
7. An oldie, but undeniably a goodie.
8. Rafer Alston is the last of the true streetball legends.
9. "Ray Lewis with a basketball."
10. Merry Christmas, Rockets fans.