THE MAG.COM PRESENTS:
ALL WORLD POWER RANKINGS
by Ted Bauer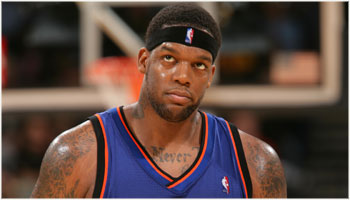 Getty Images
WHEN IT COMES TO THE 'STATUES' OF THE NBA, WE'LL GO WITH EDDY CURRY
[Ed's note: Not sure what All-World Power Rankings is? Please click here.]
Get this: today in 1886, President Grover Cleveland dedicated the Statue of Liberty. And now, in 2008, the NBA returns! Ever heard someone call a bad defender "a statue?" We have, although we prefer any announcer term that involves the word "burnt" in some way (see: salmon, smoked). We decided to combine the opening of a great American landmark with the return of a great American institution and rank the biggest "statues" (i.e. the worst defenders) in the NBA. Here we go now.

TOP 5
RANK (YESTERDAY)
WHAT
WHY
1 (10)
EDDY CURRY
We love this post from The Mercury News, in which we found this nugget: "When (Curry) was on the floor, NY opponents scored 117 points per 100 possessions." Ha. HA!
2 (35)
STEVE NASH
People love to bash Nash's defense. We can't really disagree. His steals-to-turnover ratio, which is something that should be important to a guard, is generally around 1 to 3 (that's bad). In his defense, he runs a lot and has possibly the most creative court vision in ten years, so he's doing something right.
3 (62)
MICHAEL REDD
We were interested in interviewing Redd for an online piece once and the NBA editor said to us, with much assurance, "Oh, I can get you Redd." It was funny if you were there, we swear. To reference the above Mercury News piece: Redd played over 2,700 minutes last season, he's a guard and he had a meager 65 steals.
4 (9)
J.J. REDICK
Everyone loves to hate this dude. But hey, Stan Van Gundy did say recently that his defense is improving. We're not sure: he's been getting torched a little in the preseason. Coach K, whadda teach these kids?
5 (42)
PRIMOZ BREZEC
Sure, sure: not in the NBA currently. This is just a guess, as we're not sure this stat is kept, but he may have been thunderously dunked on more than anyone in recent league history.
HONORABLE MENTION
RANK (YESTERDAY)
WHAT
WHY
82 (139)
ZACH RANDOLPH
Seriously, is it weird that a lot of these guys played for pretty good college coaches?
103 (1,870)
CARMELO ANTHONY
In his defense, he plays an up-tempo game, so it's possibly the result of there just being more buckets. However, doesn't he generally seem more concerned with the offensive end of the floor?
RISING AND FALLING
MOVEMENT
WHAT
ANTHONY RANDOLPH (We think he could be a stopper. Thus, we mean he's "rising" as a defender.)
AMARE STOUDMIRE (People always use to criticize his defense, but he seemed to step it up last year post-Shaq.)
For more All-World Power Rankings,
CLICK HERE