THE MAG.COM PRESENTS:
ALL WORLD POWER RANKINGS
by Ted Bauer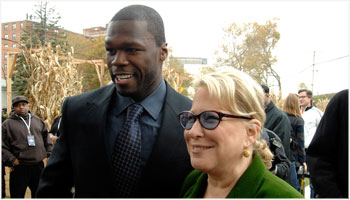 Getty Images
WHEN IT COMES TO THE BEST POP CULTURE REFERENCES TO TONYA HARDING, WE'LL GO WITH ROCHELLE, ROCHELLE
[Ed's note: Not sure what All-World Power Rankings is? Please click here.]
Tonya Harding turns 38 today. Put simply, she might be the most ridiculous person in world history. She had someone nail Nancy Kerrigan in the knee at a practice session for the '94 U.S. Figure Skating Championships, went through that whole routine with her laces, has had a series of incidents involving her truck (including one policeman calling her story "very implausible") and also appeared on FOX's Celebrity Boxing against Paula Jones. Jeez. As ya might expect, her life has been referenced in popular culture many times. We now attempt to rank the best attempts at adding humor to what's essentially a tragic tale.

HONORABLE MENTION
RANK (YESTERDAY)
WHAT
WHY
18 (144)
IN LIVING COLOR BASKETBALL SKETCH
Basic premise: a guy tries to set the world record for most consecutive shots. A Harding lookalike roller skates on the court and clubs his knee, ending his dream. If you're into downloading things, you can grab the clip here.
28 (701)
"TONYA AND NANCY: THE OPERA"
It was actually produced in May '06 by Tufts University. There was also a rock opera version in 2008 on the west coast, apparently attended by Harding herself. Info here!