Clip Reel: Brock Lesnar
A brief look at the new UFC Champion.
by Ted Bauer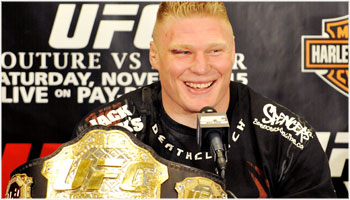 Getty Images
Do you remember when Brock Lesnar and Shelton Benjamin were a tag team called "The Minnesota Stretching Crew?" Seems like a long time ago, no? On Saturday night at UFC 91, Mr. Lesnar became the new UFC Heavyweight Champion. If you type "Brock Lesnar" into YouTube, there are over 11,000 hits. We're not gonna link 'em all. Rather, we're going to offer you 20 or so that will give you a greater understanding of the man from South Dakota. First piece of advice: start here. Second piece of advice: at that point, go here. OK, you're ready.
Here is Lesnar's UFC debut (UFC 81).
Lesnar vs. Akebono in IWGP.
Good Lesnar training video.
Lesnar speaks out on pro wrestling.
Lesnar vs. Goldberg with Steve Austin as the ref.
The failed shooting star press at WrestleMania.
The Rock vs. Lesnar at SummerSlam 2002: Lesnar becomes the youngest WWE Champion.
Lesnar's UFC All-Access (this is Part II, but Part I links off of it).
Lesnar vs. Heath Herring highlights.
Just because we can: the best moments of Sable.
What would happen if Lesnar fought Fedor?
Lesnar's official UFC page (has fight videos off it).
Comprehensive resource on Lesnar's MMA career to date.
Lesnar's WWE legacy explored.
Minnesota's legacy of heavyweights.
An old interview with Rena Mero regarding her relationship with Brock.
"It's Lesnar's time."