Clip Reel: Pete Newell
RIP, legend.
by Ted Bauer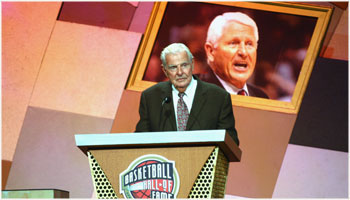 Getty Images
Pete Newell's obituary in The New York Times opens simply: "…one of the most influential coaches in the history of basketball…" It's hard to argue. Jerry West, who is so important to the NBA that he's the logo of the league, once said: "There is no way you can measure Pete's impact on the game." (Newell was GM of the Los Angeles Lakers when they got Kareem from the Milwaukee Bucks.) The Pete Newell Big Man Camp has some of these guys as alums: Shaq, Bill Walton, Hakeem, James Worthy and Bernard King. Impressed? Indeed. Check this, too: Patrick Ewing never went to Newell's camp and the biggest knock on his career was his weak footwork around the basket. It's time to honor Newell via Clip Reel.
Here's that obituary again.
Multiple reactions via The International Herald Tribune.
Bob Knight on Newell via ESPN.Com.
Here's his Wiki.
Here's the website for his famed Big Man Camp.
Pete Newell's Playing Big.
Awesome clips from YouTube: "The Pete Newell Story." It's three parts and this is Part III, but you can access the other parts off it. Amazing stuff.
Kyle Hines on the value of Newell's camp.
Here's more on that "he could have made Patrick Ewing better" argument.
DimeMag profile.
What is Newell's ultimate legacy?
Another good perspective.